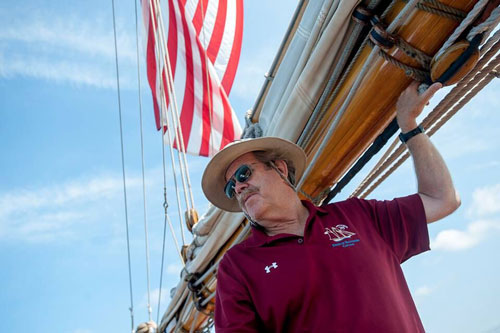 Dear Reader,
Summertime is when Pride of Baltimore II shines brightest! Pride is docked for the summer at the Constellation Pier in Baltimore's Inner Harbor – have you been out to see us? We are offering free deck tours as well as day sails and sunset sails nearly every weekend. We are also hosting what promises to be a fascinating book discussion about Privateers in September. And, we have an opportunity for an overnight sailing adventure later this month.
Read on for more, and see you aboard!
---
Take a Free Deck Tour
A deck tour is the ultimate way to explore our ship, learn about its special place in history, and what made it unique in the War of 1812 and today. Stepping aboard Pride is literally like stepping back in time.
You can interact with our passionate and knowledgeable crew and find out what it's like to be a sailor on a traditionally-built Tall Ship. Learn about the watch, our reproduction cannons, and take a selfie at the helm. Our tours are open to adults and children, and groups of all types.*
Pride will be open for deck tours in Baltimore's Inner Harbor on most weekends through September. Please see our website for dates and times.
---
Join Us for a Sail!
Sailing with Pride is an experience you'll never forget!
Pride sails from the Inner Harbor into the Patapsco River, past Fort McHenry and near the Key Bridge, just like Francis Scott Key did during the War of 1812. If the conditions are right, we can catch some beautiful wind. With her sails unfurled, Pride is a sight to behold.
On board, guests enjoy the fascinating history of Baltimore's harbor and the role it played in America's 'Second War of Independence.' You'll hear about the "Star-Spangled Banner" and the 'Bombs Bursting in Air' as we pass Fort McHenry. You'll also see the thriving seaport of present-day Baltimore and hear about the city's successful commercial industry. And you'll learn more about Pride herself, from her inspiration 200 years ago to the wizardry of her construction as a wooden sailing vessel, to the tragic event that caused an entire city to unite together and create the ship we know today as Pride of Baltimore II.
You can help pull lines and raise the sails. Or, you can sit back and enjoy the breeze! There is something for everyone on board Pride. (Plus, you can even bring your own food and drink – just no glass containers.)
Our tours last 2 hours, which is nearly twice as long as other boat tours in the Inner Harbor.
So what are you waiting for? We are offering a limited number of day sails and sunset sails this season – see below for our complete schedule, and get your tickets today!
| | | | | |
| --- | --- | --- | --- | --- |
| Date | Location | Time | Event | Ticketing |
| Aug 15 | Constellation Pier | Day Sail | 3-5pm | Buy Tickets |
| Aug 20 | Constellation Pier | Sunset Sail | 6-8pm | Buy Tickets |
| Aug 22 | Constellation Pier | Day Sail | 3-5pm | Buy Tickets |
| Aug 29 | Constellation Pier | Day Sail | 3-5pm | Buy Tickets |
| Aug 30 | Constellation Pier | Day Sail | 9-11am | Buy Tickets |
| Sept 5 | Constellation Pier | Day Sail | 4-6pm | Buy Tickets |
| Sept 6 | Constellation Pier | Day Sail | 5-7pm | Buy Tickets |
| Sept 7 | Broadway Pier | Day Sail | 3-5pm | Buy Tickets |
| Sept 12 | Fort McHenry | Day Sail | 2-4pm | Buy Tickets |
| Sept 13 | Fort McHenry | Day Sail | 2-4pm | Buy Tickets |
| Sept 17 | Constellation Pier | Sunset Sail | 5:30-7:30 pm | Buy Tickets |
---
This September: Privateer Book Talk and Sunset Sail
We're partnering with the Maryland Historical Society to bring you an afternoon of historic proportions – all about privateers!
On Sunday, September 20, author David Head will lead a fascinating discussion about his new book, Privateers of the Americas (publish date: October, 2015). After the book talk, we'll board Pride for a two-hour sunset sail around Baltimore's Inner Harbor, complete with dessert and coffee!
About The New Book, Privateers of the Americas

We all know about the critical role privateers played in America's 'Second War for Independence,' but what happened to privateers after the War of 1812?
In his new book, David Head examines raids on Spanish shipping conducted from the United States during the early 1800s – and how they influenced politics in South America. Among the available histories of privateering, there is no comparable work.
Seafarers living in the United States secured commissions from Spanish American nations, attacked Spanish vessels, and returned to sell their captured cargoes from bases in Baltimore, New Orleans, and Galveston and on Amelia Island. Privateers sold millions of dollars of goods to untold numbers of ordinary Americans. Their collective enterprise involved more than a hundred vessels and thousands of people – not only ships' crews but investors, merchants, suppliers, and others. They angered foreign diplomats, worried American officials, and muddied U.S. foreign relations.
David Head will discuss how Spanish American privateering worked and who engaged in it; how the U.S. government responded; how privateers and their supporters evaded or exploited laws and international relations; what motivated men to choose this line of work; and ultimately, what it meant to them to sail for the new republics of Spanish America. His findings broaden our understanding of the experience of being an American in a wider world.
This event is co-sponsored by the Maryland Historical Society Maritime Committee and Pride of Baltimore, Inc.
Complete details are as follows:
Date & Time: Sunday, September 20, 2015
Privateers of the Americas Book talk with author David Head, from 3-5pm
A Sunset Sail aboard Pride of Baltimore II from 5:30-7:30 pm
Location: Pride of Baltimore Headquarters, 2700 Lighthouse Point East, Suite 330
Baltimore, MD 21224
Free street parking is available on Boston Street. A paid parking lot is available between 7-Eleven and the shop, Boston Street Running.
Ticket Prices:
Privateers of the Americas book talk is $20 for non-Members and $10 for Privateer Society Members.
Sunset Sail is $60 for Privateer Society Members and $75 Non-Members.
Register for sunset sail here.
---
Join Us For A Guest Crew Adventure!
Come aboard Pride of Baltimore II for a multi-day trip in the northern Chesapeake Bay, from Sunday, August 23 through Wednesday August 26!
We will be sailing where the wind takes us, charting our course for the optimal sailing experience.
But what will you be doing?
As part of our Guest Crew, you'll be working alongside our professional crew and taking an important role in running the ship!
You will participate in sail handling, take turns on the watch (and learn why that's so important), spend time at the helm, conduct the boat check, navigation activities and more.
"There's nothing like the Pride" says Pierre Henkart, who has participated in numerous guest crew sails. "The feeling of sailing through the water real fast – it's a really emotional connection."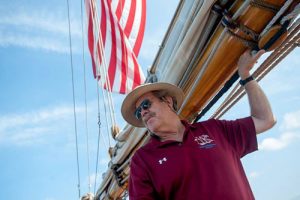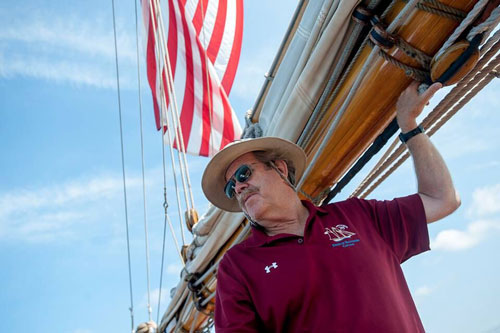 "There are other Tall Ships," Henkart continues, "but none of them are the mean sailing machine that Pride is. It takes a good breeze to prove it, and there's no one better to scope that out than Captain Jan Miles."
Pride will sail where the wind takes her, charting her course for the optimal sailing experience in the beautiful region of the Northern Chesapeake.
"There aren't that many opportunities like this in the United States," Henkart adds, "Pride is the top dog in the Tall Ship niche, and she has the trophies to prove it."
So book your bunk today, then pack your bag for a great sailing experience on Pride! We can only take six guest crew, so early applications are a must. Apply today on our website.
---
Host a Private Charter Aboard Pride!
Even when she's not sailing, Pride of Baltimore II provides an exclusive way to entertain clients, customers, employees, or friends. The vessel's sleek hull, raked masts, and intricate rigging provide a dramatic setting for any occasion. The vessel can be chartered for a or dockside reception here in Baltimore. Or she can be taken on a sailing voyage into the Inner Harbor.
Pride, Inc. staff and crew will work with you to make your event truly unique – leaving an unforgettable impression on your guests.
Pride can be chartered for:
-Staff appreciation days
-Networking events
-Leadership/teambuilding experiences
-Family reunions
-Birthday parties
-Weddings
-And more. The possibilities are endless!
Per U.S. Coast Guard regulations, the number of guests for a dockside reception is limited to 100 on the vessel; more if shore facilities are available. Sailing charters can accommodate 35 guests. Contact us to learn more.
---
Like Sail Mail? Share Us With a Friend!
I hope you're enjoying our monthly Sail Mail! E-newsletter. If you have a friend or family member who might enjoy receiving up-to-the-minute news and information about our news, events, and updates (and, of course, our trivia questions), simply send them this link: https://www.pride2.org/e-newsletter-registration/
And they can sign up!
---
Until next month,
Rick Scott
Executive Director, Pride of Baltimore II
*Pride II welcomes visitors with limited mobility; please contact the Pride office in advance.