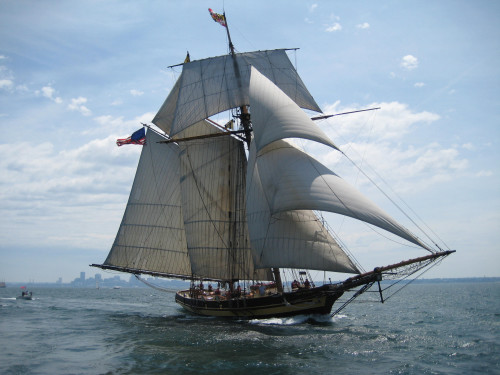 Greetings,
After many months of planning, I am thrilled to announce that Pride of Baltimore II will be sailing this year!
We have named our 2015 season campaign Baltimore: Home Port of the Brave, which could not be a more fitting title.
Over the years, Pride has voyaged to ports around the world in order to participate in tall ship festivals and other War of 1812 Bicentennial events. But this year, Pride's main focus will be Baltimore. We are thrilled to celebrate her rich heritage with the citizens of her namesake town. It's a responsibility we take very seriously, especially in light of the city's recent unrest. Pride herself is emblematic of the very best characteristics of Baltimore, such as the city's entrepreneurial spirit, its rich history and its technological prowess, and we look forward to showcasing this to you.
Pride's 2015 sailing season will run from mid-June thru October. You will have the opportunity to participate in the unique and historical experience of stepping aboard a topsail schooner through our interpretive dockside tours, as well as day sails, private charters, and overnight guest crew opportunities.
Pride will be docked at the Inner Harbor and will be open for deck tours and a limited number of day sail opportunities between Wednesday and Sunday. A complete schedule of Pride's activities is currently being planned; please check our Pride of Baltimore II website for updates. In addition, we will be sending you a schedule of activities in our next issue of the Sail Mail, starting with Pride's official launch date in June. So stay tuned!
---
Call For Volunteers! Pride's Uprigging Process Begins
From Jan Miles, Captain, Pride of Baltimore II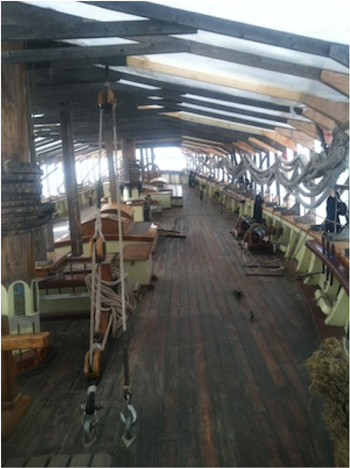 On Monday, May 11, the first of our new 2015 sailing season's crew came aboard Pride of Baltimore II! The ship has been residing at her winter berth on Clinton Street in Baltimore.
The crew is already hard at work converting her belowdecks to a habitable state.
Pride's winter cover had been shielding the idle ship from direct sunlight and rain. One of the most important factors in preserving a traditionally wood constructed vessel like Pride is good ventilation. Also, some of the ship's hotel services, like running water, were turned off.
I am proud to introduce our new crew: 1st Mate Jesse Doucette, Bosun Daniel Calbick and veteran cook and Pride shipmate Kevin Moran, who have already come aboard for the conversion. 2nd Mate Zach Michael will join us as soon as he can from the coastal delivery of Sail Training Vessel (SSV) GERONIMO he has been on from Charleston, SC to Newport, RI. That delivery was interrupted by the early season tropical depression Ana rattling around off the southeast coast, making it untenable for remaining at sea along that coast. Kindly, Captain Tony Arrow has set Zach free to join Pride, possibly as soon as next week.
I don't know when the remaining officer will come aboard. We are still looking for a sailing mechanic we call Engineer/Deckhand. If you have prior traditional working sail vessel experience and are interested, please email me, Captain Jan Miles, at jan@pride2.org. All interested applicants must be U.S. citizens and either be prepared to prove being drug-free, as per USCG regulations, or meet the regulations for being qualified as drug-free.
Volunteers Needed
I am also in search of a few more volunteers. It is my hope that converting the live-aboard situation will proceed with reasonable speed so that we can then clean the deck and prepare it for a coat of oil by the end of next week. If you are available to lend a hand next week, we would love to have your help!
After the deck oiling, the next step before actual rig-up can begin is to get the ship's winter cover and frame off the ship and stored ashore, as well the cover and frame that we call "Sparlandia," an onshore, Quonset-hut like cover to Pride's topmasts, gaffs, yards and boom stored ashore. We are looking for volunteers to assist with this dis-assembly on Saturday, May 16 and Sunday, May 17. Email jan@pride2.org if you are available. Many hands make light work… you all might know this well. Pride's officers will appreciate greatly any and all assistance!
---
Celebrate National Maritime Day! Sunday, May 17
Join the Port of Baltimore community as we celebrate National Maritime Day on Sunday, May 17 from 10 am – 3 pm at Pier 13 in Canton! (4601 Newgate Avenue, Baltimore, MD 21224). This is a FREE event showcasing the companies and careers that make the Port of Baltimore the economic heart of Maryland.
This is your chance to tour the Nuclear Ship Savannah – and you can even board the way passengers did back in the ship's heyday. In total, there will be sixteen visiting vessels and craft. You will also have the opportunity to tour the coal terminal Consol Energy/CNX Marine Terminal and see a display of LEGO model ships.
While Pride of Baltimore II will be busy preparing for her summer sailing season, she will be represented with an informative table and giveaway prizes, so be sure to check us out.
Other highlights of the day include an 11:30 am commemoration featuring former Congresswoman Helen D. Bentley and Congressman Dutch Ruppersberger honoring the 51st anniversary of the Savannah's first port call to Baltimore. (Coincidentally, Bentley covered that event as a reporter for The Baltimore Sun.)
In addition, McAllister Towing and the Baltimore City Fire Boat will supply a water cannon salute at the conclusion of the National Maritime Day Commemoration.
Parking is free and available on Newkirk Street, Newgate Avenue, Leland Avenue and Pier 12. A free parking shuttle van will take visitors to and from the festivities.
For complete details and directions, visit the www.portfestbaltimore.org website. See you there!
---
A Day of Remembrance: May 14, 1986
May 14 was a day of remembrance for all Pride sailors, as we observed the loss of the original Pride of Baltimore and four of her crew in a microburst squall off Puerto Rico in 1986.
Since her construction in downtown Baltimore and launch in 1977, Pride had sailed over 150,000 miles, covering the American east and west coasts, Europe, and the Caribbean. In those 9 years, Pride had demonstrated the superb sailing performance and beauty of the Baltimore clippers of the early nineteenth century.
During her nine years at sea, Pride captains and crew extended the hand of friendship to thousands of people throughout the world. Pride II was commissioned in 1988 as a sailing memorial to her predecessor.

---
This Month In Seafaring History
May 15, 1523: In one of the first recorded acts of piracy against the Spanish Empire, French corsair Jean Fleury captures two of three Spanish galleons off the coast of St. Vincent, near Portugal. The ships, enroute from Havana, Cuba to Seville, Spain, contained Aztec gold, confirming rumors of the vast wealth to be found in the New World. Fleury would die with a fortune estimated at $34 million in today's dollars. A third galleon escaped & returned to Spain. In her cargo was a live tiger and handmade goods that had belonged to Montezuma.

Image: Jean Fleury Hijacks Aztec Gold, Courtesy Getty Images

May 17, 1849: A fire barrels through downtown St. Louis, Missouri, destroying a significant part of the city and many of the steamboats along the Mississippi River. The fire began at 9 am, when it was reported that the paddle wheeled steam boat White Cloud was ablaze. Although the fire department valiantly worked to put out the flames, the moorings holding the White Cloud burned through, and the burning steamboat drifted slowly downriver, setting 22 other steam boats on fire. The flames lept from the river to the city buildings, destroying more than 400 buildings along the waterfront.

Image: Ruins of St. Louis, 1849, Daguerrotype by Thomas Easterly

May 26, 1813: Great Britain extends its blockade of the American coast to major ports in the "middle and southern states," including Baltimore and Washington, DC. Cockburn was active in the attacks on both cities, and growing weary of reading about his critics, Cockburn ransacked the office of the Daily National Intelligencer in the nation's capital and ordered the letter 'C' to be destroyed, thus making it more difficult for the press to write about him.

Image: Britain's War of 1812 Rear Admiral, George Cockburn
---
Like Sail Mail? Share Us With a Friend!
I hope you're enjoying our monthly Sail Mail! E-newsletter. If you have a friend or family member who might enjoy receiving up-to-the-minute news and information about our news, events, and updates (and, of course, our trivia questions), simply send them this link: https://www.pride2.org/e-newsletter-registration/
And they can sign up!
Speaking of Trivia…
---
Trivia Time!
Congratulations to everyone who correctly answered our last Trivia question! A "weather gage" refers to the windward position of one of two sailing ships in combat, conveying more opportunities in maneuvering into favorable positions for cannon fire. The British HMS St. Lawrence had the "weather gage," as it was upwind of Chasseur as identified by the sails of both ships.
Ready for this month's question?
Question:What native American tree provided the strong wood for the frames of the USS Constitution, whose victories in the War of 1812 led to its being called "Old Ironsides"? (And inspired the U.S. Navy to preserve it to this day!)
Email us with the correct answer, and you could win a prize!
Until next month,
Rick Scott
Executive Director, Pride of Baltimore, Inc.