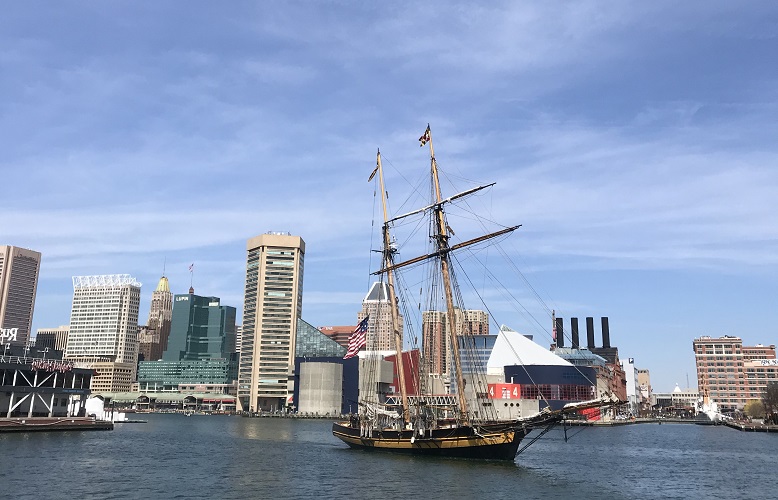 Photo: Fuel run, March 22, 2020, courtesy of Patrick Smith
Date: March 23, 2020
Location: Baltimore, Maryland
The new mantra aboard is "hygiene, hygiene, hygiene."
What makes this uprig able to continue in the new-normal of social distancing is next to zero public exposure. Pride is not associated with its own publicly accessible mooring situation. Many other "tall ships" (the more historical commercial sail rig/hull types versus classically-rigged minimally-wetted surface hull type yachts) are moored to home port piers set up for regular visitation from the public/students. Not so for Pride. She moors for winter storage and maintenance at a non-public "secure" commercial marine facility. Also, uprig started mid-February, meaning Pride's crew for 2020 came from across the nation to make home aboard some length of time before the social distancing strategy for blocking/reducing the risk of spreading COVID-19 virus. And developing extra strategies of shipboard and personal hygiene has been seriously adopted by all aboard. Paying special attention to washing in the shore-based head facilities before coming aboard. Not yet experiencing infection … so far, so good.
Meanwhile, the many decade (now increasing past four) legacy of Maryland and Baltimore's iconic vessel Pride of Baltimore is all about remembering and sharing our state and city's nation-building contributions to history and sharing a desire to connect with the rest of the world. Becoming our nation's most internationally renowned "tall ship" in the process of what is a most unique promotion for a state and city.
So, what do we do with our Pride, nearly all rigged up, considering no illness and very low risk of illness along with nearly no risk of spreading? Go sailing! It is the only fundamental way for the 2020 crew to learn the ship. And won't it be grand to see our Pride sailing? Of course it will!
Since all of the cancellations, we have been thinking we could try to sail this coming Maryland Day, March 25, this coming Wednesday … weather being friendly. If not? As soon as the weather becomes friendly.
Stay tuned.
Captain Jan C. Miles