If you want to receive the latest and most up-to-date news about Pride II right in your inbox, be sure that you are subscribed to Sail Mail.

VIEW SCHEDULE & BUY TICKETS
---
Deck Tours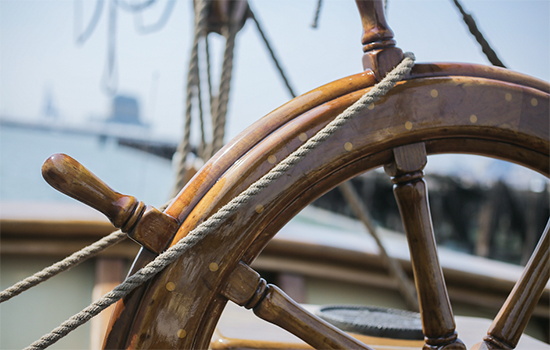 Cross the gangway and come aboard to learn about Baltimore's tall ship, Pride of Baltimore II. Explore the deck and talk to her captain and crew. Learn about the history of Baltimore Clippers and Pride II; or hear from a crew member what it is like to sail a tall ship today. Tours are open to guests of all ages. Groups are welcome, too.
If you would like to schedule a private tour, please contact us at 410.539.1151. Accessibility is addressed on a case-by-case basis, so please talk to us ahead of time to be sure we can accommodate your needs.
Please note that dates and times for deck tours are subject to change with short notice.
Day Sails
Stand on deck, feel the wind in your face, and watch the sails unfurl. Help pull lines or just sit back and experience the sail. The ship's knowledgeable and experienced captain and crew will tell you about Pride's history, as well as Baltimore's rich maritime history, and answer questions. Sailing on a wood topsail schooner, particularly one as renowned as Pride of Baltimore II, is a unique experience not to be missed.
Tickets are required and can be purchased online by following the link to our schedule below. Minor passengers under the age of 17 are welcome if accompanied and closely supervised by an adult. Children under seven are asked to provide their own personal flotation device. Snacks and beverages are not provided unless specified on the event registration page. You are welcome to bring your own refreshments, but no glass please.
Please note that dates and times for day sails are subject to change with short notice.