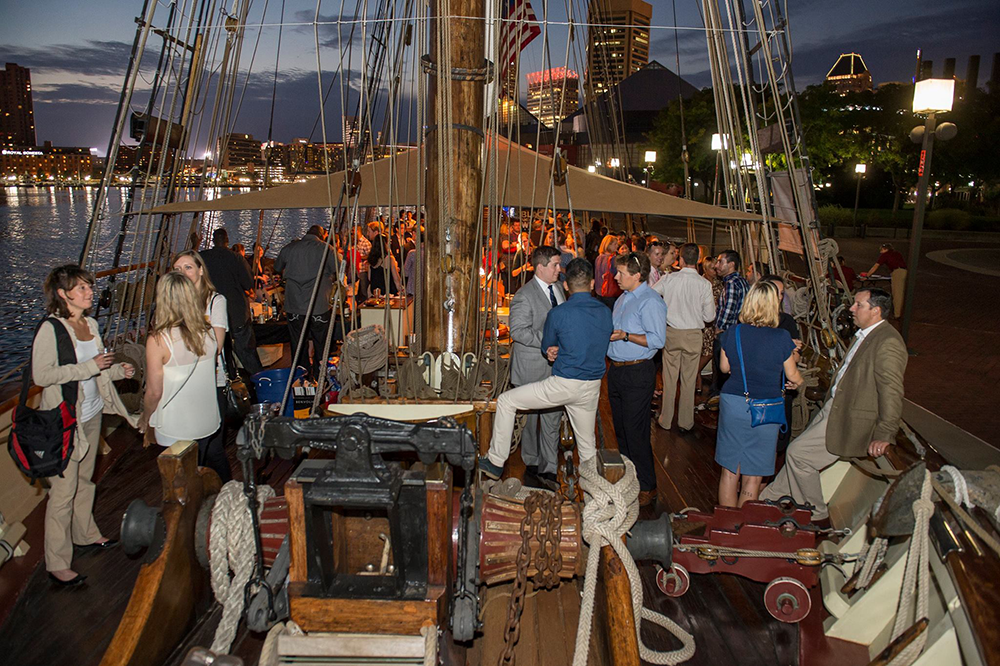 Entertain clients, reward your staff, host your family reunion, or celebrate a birthday – the possibilities are countless – with an event aboard Pride of Baltimore II. Pride offers an exclusive venue and – with her sleek hull, raked masts and intricate rigging – a dramatic setting for any event. An event on Pride is an experience, not just an event! Pride staff and the ship's crew will work with you to make your experience truly unique – leaving an unforgettable impression on your guests. To schedule a Pride experience for your group, please contact us at pride2@pride2.org.
Book Pride II for your special event
Scroll through the calendar at the bottom of this page to find dates that are available for your event.
Please review our charter FAQ and catering guidelines. 
To schedule a Pride experience for your group, contact us at pride2@pride2.org.
Please note that, per U.S. Coast Guard regulations, a maximum of 32 passengers are permitted for an underway sailing charter and a maximum of 100 guests are permitted for a dockside reception. A two-hour charter is recommended.
Why host your event on Pride II? 
Attract new clients or supporters
Entertain customers or guests
Organize a waterfront networking event
Reward your staff
Plan a fun team-building/leadership experience
Host a board meeting
Set the perfect backdrop for major announcements
Make your special event — maybe a wedding, birthday, or anniversary celebration — unique and unforgettable
If you want to receive news about Pride II right in your inbox, be sure that you are subscribed to Sail Mail, our e-news.