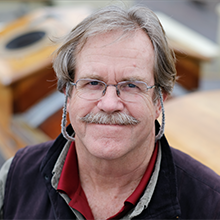 Jan Miles, Senior Captain
Pasadena, Maryland
Captain Miles, an Annapolis High School graduate, has been with Pride of Baltimore, Inc. since 1981, when he joined as one of three rotating captains on the original Pride of Baltimore. He was the first to sail the original Pride across the North Atlantic to Europe and was at the helm for Pride of Baltimore II's maiden voyage in 1988. He is a tall ship master with more than 50 years of experience as a professional sailor. His voyages have included six Atlantic Ocean crossings, as well as three Pacific voyages of 5,000 miles, each taking about 25 days. He has traversed the Saint Lawrence Seaway more than a dozen times. He holds a USCG 500 Ocean Master License for Power and Sail, as well as numerous other certifications. Captain Miles has served as master or mate aboard many other vessels, including Lady Maryland, Californian, Bill of Rights, New Way, Alexandria, Brilliant, Clearwater, Elissa, Oliver Hazard Perry, and Tiare Toporo. Along the way, he also helped develop model sailing programs for youth at risk.
His accomplishments and contributions have been recognized both within and outside of the maritime community. In February 2013, Captain Miles was recognized with the Lifetime Achievement Award by Tall Ships America. In September 2005, he was the master aboard when Pride of Baltimore II suffered a catastrophic dismasting. As a result of the crew and trainees' conduct during that event, Sail Training International awarded the ship the Special Seamanship Award. Capt. Miles was named Sail Trainer of the Year by the American Sail Training Association in 2004. He has also been recognized for his efforts to shine a positive light on Maryland, having been named Marylander of the Year by the Maryland Colonial Society in 2001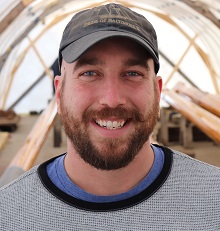 Jeffrey Crosby, Captain
Duluth, Minnesota 
Jeff started sailing off and on aboard Pride II in 2008. He has been sailing with Pride II as chief mate since 2017. Jeff grew up sailing on Lake Superior on one-design boats, and shifted into the traditional sailing world after graduating from the Landing School with a degree in boat building in 2005. He holds a U.S. Coast Guard 100-ton near coastal master's license.
Shevawn Innes, Senior Mate
Owosso, Michigan
Shevawn returns to Pride II as the chief mate. She has sailed on a number of other schooners, Mary E, Appledore II, Hindu, Pioneer, Spirit of Massachusetts, Harvey Gamage, and Westward. Shevawn has been playing roller derby for 11 years. When not working on the ship, one of her favorite things to do in town is to go to local farmers' markets. 
Chad Lossing, Lead Rigger
Big Rapids, Michigan
Chad returns to the crew after serving as mate during the 2017 winter maintenance season. In addition to sailing on Pride II in 2013 & 2016, his sailing career has found him aboard Nordlys, Hindu, Tres Hombres, and Victory Chimes. He was also a sailmaker's apprentice at the Bierig Sail Loft. Chad enjoys cycling, knitting, & Russian literature.
Edwin Andersen, Winter Crew
Lisbon Falls, Maine
A new addition to the crew, Edwin (EJ) brings experience sailing aboard Bagheera, Wendameen, Adventuress, and Lynx. He is a graduate of the Wooden Boat Program at the Landing School. This is his first time in Baltimore and he is looking forward to seeing a game in a proper baseball stadium like Camden Yards. 
Tanith Anhaiser, Rig Team 
Roseville, California
Back for another season, Tanith comes to Pride II after sailing as crew aboard Lady Washington, Atyla, and Zodiac.  When not on Pride, Tanith enjoys finding any way to be near the water. She is a big fan of the Woodwinds in Annapolis and takes her coffee black.
Lucy Canfield, Winter Crew, 
Erie, Pennslyvania
Returning to Pride II, Lucy (Weasel) got her start in sailing as a trainee on US Brig Niagara and first joined our crew in 2021. In her spare time, Lucy loves to go hiking. She left most of her crew biography form blank, which leads our staff to the conclusion that she is the most punk rock member of the crew. 
Nathan Engel, Rig Team
Grand Rapids, Minnesota 
A returning crew member from last season, Nate brings with him extensive offshore sailing experience, having sailed aboard Europa, Niagara, Gulden Leeuw, Roseway, Adventure, and Oliver Hazard Perry. Nate holds STCW, AB-Sail, and Dive/Dry Suit certifications. Some of Nate's favorite sailing experiences include sailing as a skipper of a 70-ft. ketch to Antarctica, sailing from 44° north to 66° south, spending 44 days underway crossing the Atlantic and back from Canada to Brazil, and getting dive certified in the southernmost city in the world. 
David Harrison, Winter Crew
Quitman, Texas
A new addition to the crew, David (Texas Dave) brings with him experience sailing aboard Nao Trinidad as a deckhand. Texas Dave has trained as a gunsmith and holds an associate degree in applied science. This is his first time in Baltimore and is looking forward to exploring the city, especially Fort McHenry. True to form, Texas Dave contends that there are no beans in chili. 


Wyatt Hasler, Winter Crew
Bloomfield, Indiana
Back for his second season on Pride II, Wyatt (Wet Shoes) has experience sailing aboard Stars & Stripes 87 (US 55) and Alabama. He is PADI open-water certified diver and his favorite place to visit in Maryland is Gunpowder Falls. 


Liam Henrie, Rig Team
Naples, New York
Liam has been working on traditional sailing vessels of various kinds since he signed up as a member of the volunteer ship guild at the Viking Ship Museum in Roskilde, Denmark, in 2014.  He has worked aboard the Hudson River Sloop Clearwater, A.J. Meerwald, and Pride of Baltimore II as a deckhand, boatswain, and mate.  He has taken part in the re-rigs of Clearwater and Pride of Baltimore II. Liam hails from the Finger Lakes region of New York. 
Mary Walker, Winter Crew
Kapa'a, Hawaii
Joining the ship for her third season, Mary has experience working aboard sloop Clearwater, Lady Maryland, Gazela, and Argia. Fun fact, Mary has superior axe throwing skills. Mary also serves as one of Pride II's snacticians and has engineered perhaps one of the most genius snack containers ever conceived. Mary wants you to know that her favorite dinosaur is a stegosaurus.
Natalie Warren, Winter Crew
Essex, Massachusetts 
Natalie is BACK! Returning to Pride for her third season, Natalie has spent time sailing aboard Clearwater and Adventure. She holds an AB and a 100-ton Inland Masters License and has experience racing dinghies. Natalie enjoys watching Mr. Trash Wheel keep our harbor clean and loves to explore Baltimore's used bookstores (especially the ones with cats).