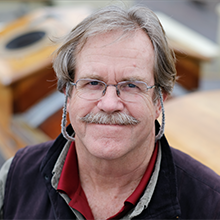 Captain Jan Miles
Pasadena, Maryland
Captain Miles, an Annapolis High School graduate, has been with Pride of Baltimore, Inc. since 1981, when he joined as one of three rotating captains on the original Pride of Baltimore. He was the first to sail the original Pride across the North Atlantic to Europe and was at the helm for Pride of Baltimore II's maiden voyage in 1988. He is a tall ship master with more than 50 years of experience as a professional sailor. His voyages have included six Atlantic Ocean crossings, as well as three Pacific voyages of 5,000 miles, each taking about 25 days. He has traversed the Saint Lawrence Seaway more than a dozen times. He holds a USCG 500 Ocean Master License for Power and Sail, as well as numerous other certifications. Captain Miles has served as master or mate aboard many other vessels, including Lady Maryland, Californian, Bill of Rights, New Way, Alexandria, Brilliant, Clearwater, Elissa, Oliver Hazard Perry, and Tiare Toporo. Along the way, he also helped develop model sailing programs for youth at risk.
His accomplishments and contributions have been recognized both within and outside of the maritime community. In February 2013, Captain Miles was recognized with the Lifetime Achievement Award by Tall Ships America. In September 2005, he was the master aboard when Pride of Baltimore II suffered a catastrophic dismasting. As a result of the crew and trainees' conduct during that event, Sail Training International awarded the ship the Special Seamanship Award. Capt. Miles was named Sail Trainer of the Year by the American Sail Training Association in 2004. He has also been recognized for his efforts to shine a positive light on Maryland, having been named Marylander of the Year by the Maryland Colonial Society in 2001.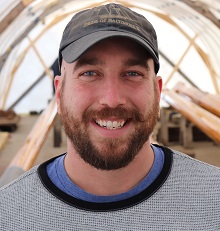 Jeffrey Crosby, Chief Mate
Duluth, Minnesota 
Jeff started sailing off and on aboard Pride II in 2008. He has been sailing with Pride II as chief mate since 2017. Jeff grew up sailing on Lake Superior on one-design boats, and shifted into the traditional sailing world after graduating from the Landings School with a degree in boat building in 2005. He holds a U.S. Coast Guard 100 ton near coastal master's license.
Russell Melin, Second Mate 
Poulsbo, Washington
Back for another round, Russel is returning as the second mate for the 2021 sailing season. He has experience sailing on Olver Hazard Perry, Lewis R. French, Golden Leeuw, Irving Johnson, & Geronimo. Russel holds a 100 Ton Near Coastal Masters license, Officer in Charge of a Navigational Watch (<500 ton) certification, AB-Special deck rating, & is a certified PADI rescue diver. Fun fact, he has traced his lineage back as far as Walter Frederick Morrison, the inventor of the plastic frisbee. Russel's favorite place to visit in Baltimore is Federal Hill Park with its great vista overlooking the Inner Habor. According to our bosun, Russel is a "silly goose."
Natalie Warren, Bosun
Essex, Massachusetts
Returning to Pride for her second season, Natalie has spent time sailing aboard Clearwater & Adventure. She holds an AB & a 100 ton Inland Masters License & has experience racing dinghies. Natalie enjoys watching Mr. Trash Wheel keep our harbor clean & loves to explore Baltimore's used book stores (especially the ones with cats).
Christina Wine, Engineer
Wailuku, Hawaii
This is Christina's first season aboard Pride. She has experience sailing aboard Robert C. Seamans, Adventuress, & Soundwaters. Christina is most excited to see some snow while in Baltimore.
Ian Bova, Cook
Perrysburg, Ohio
Ian is a returning crew member, bringing with him experience sailing & cooking aboard a number of vessels, including Pinta, Niagara, Draken Harald Harfagre, Blue Clipper, Oosterschelde, & Lynx. In addition to holding a Dutch Seamans Book & a food safety certification, Ian is well known in the fleet for his baking prowess. His favorite places to visit in Baltimore include Fort McHenry & Duda's Tavern in historic Fells Point.
Nicole Close, Deckhand
Arlington, Virginia
New to the ship, Nicole comes to Pride II after sailing as crew aboard Victory Chimes. Between the ages of 11 & 13, she lived aboard a sailboat with her family plying the waters of the Caribbean. Her favorite place to visit in Baltimore is the Maryland Science Center. She attributes her love for science to field trips there as a kid.
Haley Ferrer, Deckhand
West Chester, Pennslyvania
This is Haley's first season aboard Pride. She joins the crew with experience aboard Robert C Seamans (SEA Semester) & schooner Zodiac in Bellingham, Washington. While she isn't the biggest city person, she loves the Baltimore skyline at night & is excited to explore more of Baltimore, particularly the National Aquarium, as COVID restrictions loosen. One of Haley's favorite spots in Maryland is the town of Rock Hall on the Eastern Shore.
Orion Hartman, Deckhand
Ridgewood, New Jersey
The only certified lifeguard on the crew, Orion has sailed aboard a number of traditionally rigged vessels including Maryland Dove, skipjack Ellsworth, Clearwater, Amistad, & AJ Meerwald. Orion's favorite place to visit in Baltimore is the Chesapeake Bay Maritime Museum in St. Michaels, Maryland.
Liam Henrie, Deckhand
Naples, New York
New to the Pride crew, Liam brings with him experience sailing aboard the Hudson River sloop Clearwater & AJ Meerwald. Liam also worked as a volunteer with the Danish Viking Ship Museum in Roskilde. This is Liam's first time in Baltimore & he loves being on the water. He is looking forward to experiencing the dance scene in Baltimore.
Mary Walker, Deckhand
Kapaʻa, Hawaii
Joining the ship for her first season, Mary has experience working aboard sloop Clearwater, Lady Maryland, Gazela, & Argia. Fun fact, Mary has superior axe throwing skills & contends that she can throw an axe more accurately than Jason Momoa. Her favorite place to visit in Baltimore is the National Aquarium & her favorite place in Maryland is the Magothy River.