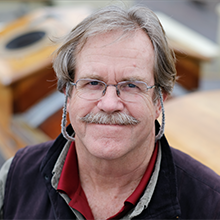 Jan Miles, Senior Captain
Pasadena, Maryland
Captain Miles, an Annapolis High School graduate, has been with Pride of Baltimore, Inc. since 1981, when he joined as one of three rotating captains on the original Pride of Baltimore. He was the first to sail the original Pride across the North Atlantic to Europe and was at the helm for Pride of Baltimore II's maiden voyage in 1988. He is a tall ship master with more than 50 years of experience as a professional sailor. His voyages have included six Atlantic Ocean crossings, as well as three Pacific voyages of 5,000 miles, each taking about 25 days. He has traversed the Saint Lawrence Seaway more than a dozen times. He holds a USCG 500 Ocean Master License for Power and Sail, as well as numerous other certifications. Captain Miles has served as master or mate aboard many other vessels, including Lady Maryland, Californian, Bill of Rights, New Way, Alexandria, Brilliant, Clearwater, Elissa, Oliver Hazard Perry, and Tiare Toporo. Along the way, he also helped develop model sailing programs for youth at risk.
His accomplishments and contributions have been recognized both within and outside of the maritime community. In February 2013, Captain Miles was recognized with the Lifetime Achievement Award by Tall Ships America. In September 2005, he was the master aboard when Pride of Baltimore II suffered a catastrophic dismasting. As a result of the crew and trainees' conduct during that event, Sail Training International awarded the ship the Special Seamanship Award. Capt. Miles was named Sail Trainer of the Year by the American Sail Training Association in 2004. He has also been recognized for his efforts to shine a positive light on Maryland, having been named Marylander of the Year by the Maryland Colonial Society in 2001.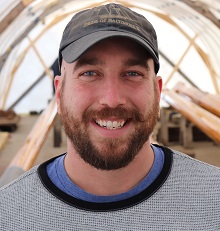 Jeffrey Crosby, Captain 
Duluth, Minnesota
Jeff started sailing off and on aboard Pride II in 2008. He has been sailing with Pride II as chief mate since 2017. Jeff grew up sailing on Lake Superior on one-design boats, and shifted into the traditional sailing world after graduating from the Landing School with a degree in boat building in 2005. He holds a U.S. Coast Guard 100 ton near coastal master's license.
Liam Henrie, Second Mate 
Naples, New York
Returning for his second season, Liam sailed aboard Pride during the first half of our 2021 season. As our second mate, Liam has made the move from the forecastle to the aft cabin. Liam brings with him experience sailing aboard the Clearwater and AJ Meerwald. Liam also worked as a volunteer with the Danish Viking Ship Museum in Roskilde and has sailed aboard Havhingsten Fra Glendalough, the largest replica Viking ship in Denmark. Fun fact, Liam has been attacked by feral dogs on three different continents and is perhaps the best breakdancer (b-boy) to have crewed aboard PRIDE II (we aren't joking, he has the moves). Liam holds an Able Seaman Sail Rating along with a 200-ton Inland Mates License
Nate Engel, Bosun
Grand Rapids, Minnesota 
A returning crew member from last season, Nate brings with him extensive offshore sailing experience, having sailed aboard Niagara, Europa, Gulden Leeuw, Roseway, Adventure, and OHP. Nate holds STCW, AB-Sail, & Dive/Dry Suit Cert. Some of Nate's favorite sailing experiences include sailing as a skipper of a 70-ft. ketch to Antarctica, sailing from 44° north to 66° south, spending 44 days underway crossing the Atlantic and back from Canada to Brazil, and getting dive certified in the southernmost city in the world. Nate also has perhaps the most beautiful eyes we have ever seen.
Ian Bova, Cook
Perrysburg, Ohio
Ian is a returning crew member, bringing with him experience sailing & cooking aboard a number of vessels, including Pinta, Niagara, Draken, Blue Clipper, Oosterschelde, and Lynx. In addition to holding a Dutch Seamans Book and a food safety certification, Ian is well known in the fleet for his baking prowess. His favorite places to visit in Baltimore include Fort McHenry, Taco Bell, and  Fells Point. Ian is the artist behind our "blue plate special" content and is a proud member of Mahaffey's Pub 100 Beer Club.
Mary Walker, Engineer
Kapaʻa, Hawaii
Joining the ship for her second season, Mary has experience working aboard sloop Clearwater, Lady Maryland, Gazela, and Argia. Fun fact, Mary has superior axe throwing skills. Mary also serves as one of PRIDE II's snacticians and has engineered perhaps one of the most genius snack containers ever conceived. Mary wants you to know that her favorite dinosaur is a stegosaurus.
Jeremy "Remy" Perron, Deckhand
Andover, Massachusetts 
Returning to Pride II, Remy brings with him experience sailing aboard When & If, True Love, and Adventure. For a reason that is still unknown to our staff, Remy is proud to share that he spent Spring Break 2013 driving to Kansas. Remy is an award-winning bartender & loves a good game of rugby. Remy is currently seeking sponsorship from Chubbies.