We are looking forward to a busy sailing season in 2023 featuring more than a dozen guest crew experiences on the Chesapeake, Atlantic, and Gulf Coast. As guest crew experiences are scheduled, they are added to the schedule below.
Be advised that all guest crew will be required to read and adhere to Pride of Baltimore II's COVID-19 policy.
Considering a Guest Crew Position?
Do you have a passion for sailing or a love of adventure and the great outdoors? Sailing aboard Pride of Baltimore II might be your opportunity to experience the hands-on challenge of sailing a traditional ship. As guest crew, you will work alongside Pride's professional crew and participate in all aspects of life aboard the ship — up to your level of interest and ability. You will stand watch, steer the vessel, help with ship's maintenance, and more.
Pride typically sails with a professional crew of 12 men and women, including the captain, ship's cook, two mates, bosun, engineer, and six deckhands. There are three passenger cabins with two berths each available for guest crew, allowing up to six guest crew to share co-ed accommodations.
Grab your gear and come aboard Pride of Baltimore II for an overnight sailing adventure! Applications are reviewed on a first-come, first-served basis. Scroll down to view this year's guest crew experiences (we add to the list as we confirm Pride's schedule, so check back periodically).
Below are some useful links about our guest crew opportunities aboard Pride:
What is it like to be guest crew? Check out these resources from folks who came aboard: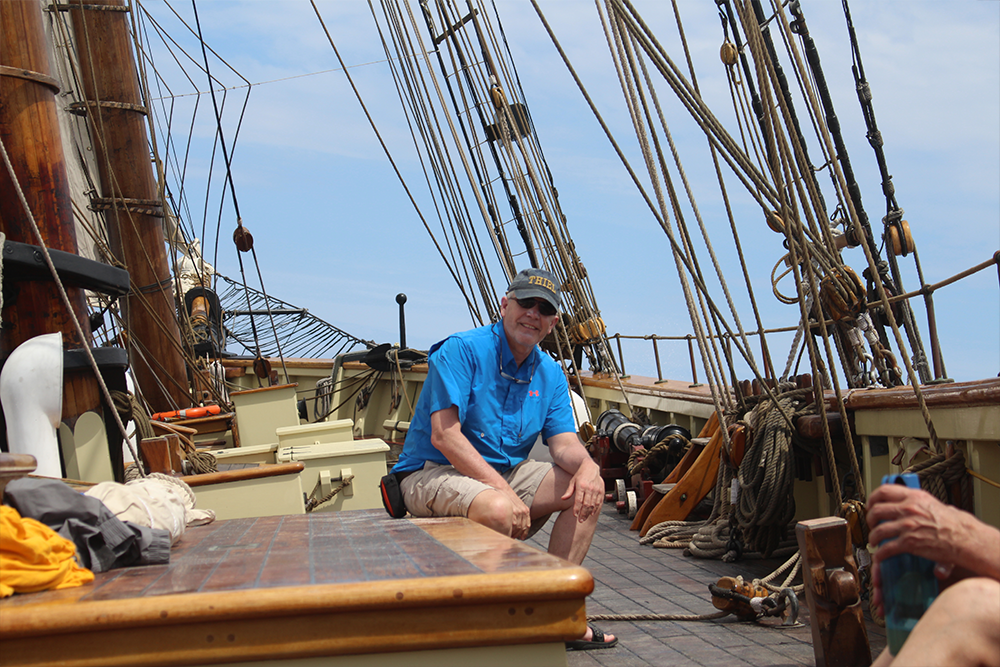 Cancellation Policy: Guest crew reservations may be canceled up to ten business days or more prior to departure with a full refund. To cancel an existing reservation, please contact Pride of Baltimore, Inc. at 410.539.1151 or pride2@pride2.org. Cancellations made fewer than ten business days prior to a departure will not be refunded. Should the captain or Pride of Baltimore, Inc. cancel the guest crew experience due to weather or extenuating circumstances, a full refund will be given.
2023 Guest Crew Passages
If you are interested in sailing on one of the listed passages, apply by clicking the link in the schedule below for any experiences for which there are still spots available. If there isn't an active link for a particular experience, that experience is not open for applications. We will notify you by email within seven business days of receipt of your application if you have been approved for a passage. Upon application approval, you will be asked to provide additional information and remit payment within three business days to Pride of Baltimore, Inc. Everyone must complete the application forms, regardless of past guest crew status.
Additional guest crew voyages are added as they are scheduled. 
Passage
Board Date
Deboard Date
Price
Availability
Baltimore to St. Petersburg

Sail down the coast and into the Gulf of Mexico. This trip south for Tall Ships® St. Pete is one of our longest guest crew passages, so you will be able to completely settle into the rhythm of life on a ship. There are no planned stops between Baltimore and St. Pete.
March 15
March 30
$2,250
WAITLIST
St. Pete to Galveston

Sail across the Gulf of Mexico from St. Petersburg, Florida, to Texas for Tall Ships® Galveston.

April 5
April 13
$1,200
Apply Today
Galveston to Pensacola

Join us for the journey back east, sailing from Galveston, Texas, to the Florida panhandle for Tall Ships® Pensacola.

April 21
April 27
$900
Apply Today
Marion Bermuda Race

Sail from Buzzards Bay off Marion, Massachusetts, into the Atlantic and across the Gulf Stream to the pink coral beaches of Bermuda. This passage is not recommended for first time sailors.


June 15
June 24
$3,000
WAITLIST
Governor's Cup Yacht Race
August 3
August 6
We are not accepting applications for this event. Additional information coming soon.
Great Chesapeake Bay Schooner Race
October 5
October 7
$1,000
We are not accepting applications for this event. Additional information coming soon.