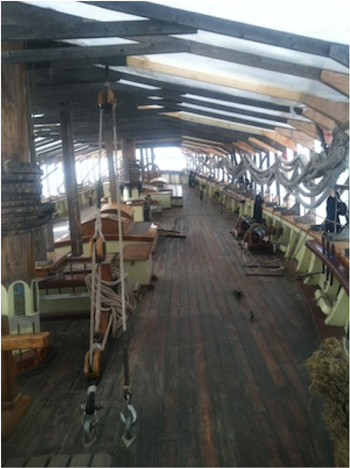 On Monday, May 11, the first of our new 2015 sailing season's crew came aboard Pride of Baltimore II! The ship has been residing at her winter berth on Clinton Street in Baltimore.
The crew is already hard at work converting her belowdecks to a habitable state.
Pride's winter cover had been shielding the idle ship from direct sunlight and rain. One of the most important factors in preserving a traditionally wood constructed vessel like Pride is good ventilation. Also, some of the ship's hotel services, like running water, were turned off.
I am proud to introduce our new crew: 1st Mate Jesse Doucette, Bosun Daniel Calbick and veteran cook and Pride shipmate Kevin Moran, who have already come aboard for the conversion. 2nd Mate Zach Michael will join us as soon as he can from the coastal delivery of Sail Training Vessel (SSV) GERONIMO he has been on from Charleston, SC to Newport, RI. That delivery was interrupted by the early season tropical depression Ana rattling around off the southeast coast, making it untenable for remaining at sea along that coast. Kindly, Captain Tony Arrow has set Zach free to join Pride, possibly as soon as next week.
I don't know when the remaining officer will come aboard. We are still looking for a sailing mechanic we call Engineer/Deckhand. If you have prior traditional working sail vessel experience and are interested, please email me, Captain Jan Miles, at jan@pride2.org. All interested applicants must be U.S. citizens and either be prepared to prove being drug-free, as per USCG regulations, or meet the regulations for being qualified as drug-free.
Volunteers Needed
I am also in search of a few more volunteers. It is my hope that converting the live-aboard situation will proceed with reasonable speed so that we can then clean the deck and prepare it for a coat of oil by the end of next week. If you are available to lend a hand next week, we would love to have your help!
After the deck oiling, the next step before actual rig-up can begin is to get the ship's winter cover and frame off the ship and stored ashore, as well the cover and frame that we call "Sparlandia," an onshore, Quonset-hut like cover to Pride's topmasts, gaffs, yards and boom stored ashore. We are looking for volunteers to assist with this dis-assembly on Saturday, May 16 and Sunday, May 17. Email jan@pride2.org if you are available. Many hands make light work… you all might know this well. Pride's officers will appreciate greatly any and all assistance!