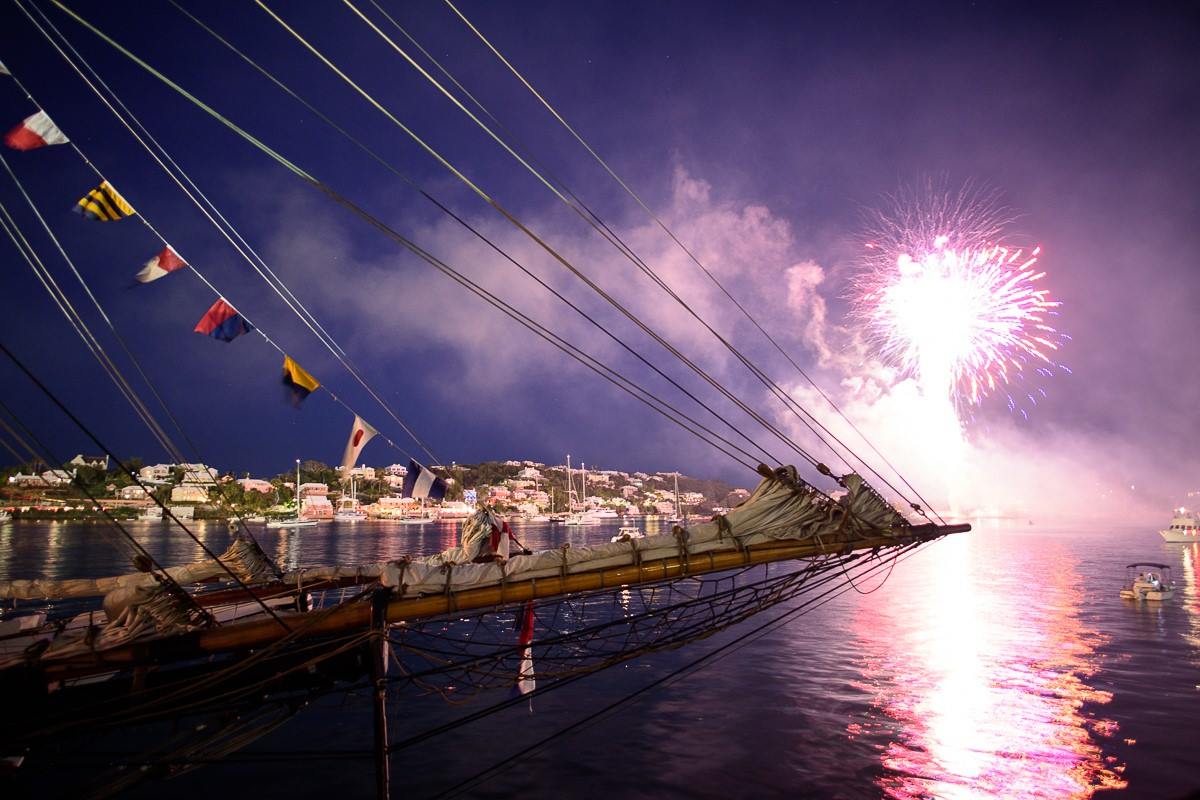 Photo courtesy of Nic Arnold
Date: Sunday, June 4, 2017
Position: Hamilton, Bermuda
Tall Ships Bermuda is one of several events marking the progression of an international sail training vessel armada migrating toward a peak event in Quebec City, Canada. The event is the 150th commemoration of Canada's Confederation. This armada fleet is being called the Rendez-vous 2017 Tall Ships Regatta, organized by Sail Training International and its national partners: Sail Training Association of Bermuda, Tall Ships America, and the Canadian Sail Training Association.
There are two fleets: a separate smaller international sail training fleet who raced to Bermuda from Tall Ships® Charleston and the main and larger international sail training fleet who raced from Portugal. The initial formation of the fleet took place in London and grew in Portugal. The next leg for this combined fleet is a race toward Boston, scheduled to start from Bermuda on Monday, June 6. Boston's festival, Sail Boston®, is June 17 through 22 where the Rendez-vous 2017 Tall Ships Regatta will increase in size again as it heads off into the Canadian waters of Nova Scotia and on towards Quebec City.
Bermuda has hosted tall ships festivals in the past – great welcoming events on a jewel of an island in the Western North Atlantic. What is unique about this year's event is the ongoing America's Cup competition. There are vessels visiting Bermuda representing an incredible range of type, purpose, and propulsive style. Dock space is at a premium – vessels moored alongside each other is common. Stern-to mooring is common as well, made possible only with special mooring gear laid down by Bermuda. Meanwhile, the America's Cup racing logistics actually close down large vessel commercial traffic into Hamilton Harbor. Access to Hamilton is by the body of water called Great Sound, which must be closed to transiting traffic during actual America's Cup competitions. When the racing is happening, the course area in Great Sound is lined by spectator vessels, all of which migrate from overnight moorings in the morning and back again in the evening.
Tall Ships Bermuda, with all of their volunteers, has made every sail training vessel, crew, and trainee feel most welcome while offering a space to regroup for the next race leg to Boston. On Saturday, the festival held an award and recognition ceremony, kicked off by a parade of all the crews through the heart of Hamilton in the most expressive (read concussive) and vividly dressed and decorated means imaginable.
Soon, things aboard each sail training vessel shifts to the seriousness of actually putting out to sea: checking safety gear, stowing fresh victuals, and other stores along with maintenance handling and introducing newly arrived racing trainees to their ship.
My compliments to Bermuda. A job very well done…again!
Signed,
Captain Jan C. Miles