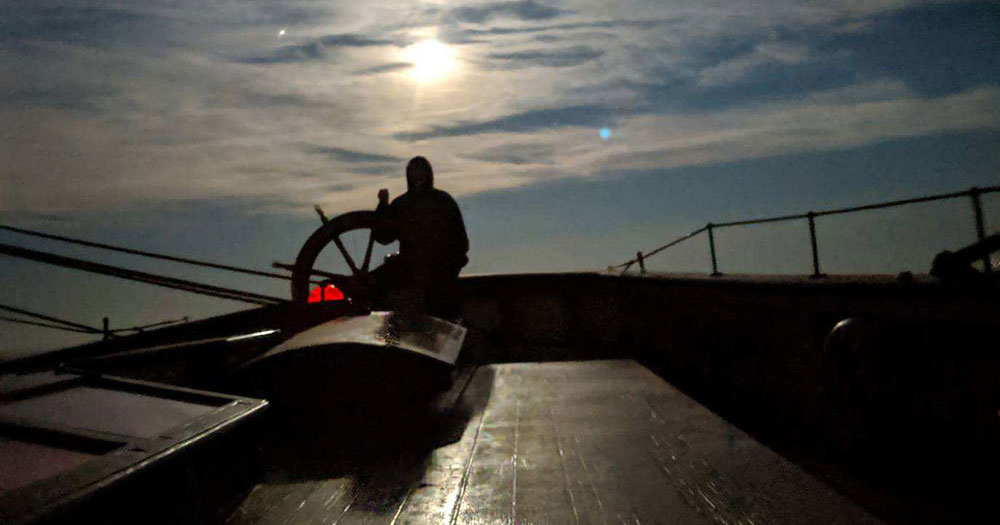 Photo: Sailing in the Atlantic, northbound out of Lunenburg, June 16, 2016, by Jeff Crosby
Date: Monday, June 17, 2019
Time: 1100 EDT
Position: In the middle of Cabot Strait's narrowest part
Speed: Close to 7 knots; motor sailing by one engine with 4 lowers (mainsail, foresail, staysail, jib), main-gaff-topsail, square-fore-topsail, and jib-topsail set
Conditions: Fog, with a light southeast breeze
Pride was able to sail most of the way from near the Halifax traffic separation scheme to the southeastern side of Cape Breton Island, a distance of 247 nautical miles. How much is most of the way? Motoring was only about 4 hours and 20 nautical miles during a no-wind situation near dawn Sunday morning. So, sailed 227 miles; from around early afternoon Saturday to midnight Sunday, except for the little bit of motoring early Sunday morning.
Since midnight last night, have been motoring northward into Cabot Strait. First with no wind and two engines after taking in all sail forward of the mainmast. Then with one engine after resetting this morning sails forward of the mainmast. All except the t'gallant and studding sail.
The sailing from near Halifax was almost all at great speed — more than 8 knots much of the time and quite a bit around 10 knots. Such favorable wind was an opportunity to get east without consuming fuel before the turn north. We could have turned north sooner and gone through the Strait of Canso. But with a persistent favorable southwest wind along the coasts of both Nova Scotia and Cape Breton, I decided to skip going through the Strait of Canso, which would have meant dropping the favorable wind for significant motoring through the strait, then meeting no wind or contrary wind as Pride exited the strait northbound into the lower Gulf of St. Lawrence. By continuing to sail east with the favorable and fresh southwesterly, my hope was to at least find light southeasterlies forecast for today in Cabot Strait. If light enough to force motoring to keep speed up, would mean most economical motoring with sails also up for capturing the southeasterlies. If stronger wind, maybe only sailing and still keep speed up.
Passing through the Gulf of St. Lawrence is always a matter of timing. Would there be usable wind? Going via the Strait of Canso would be okay this time because of either no wind or light contrary wind. However, going via Cabot Strait offered the chance of having favorable winds for longer.
True, it is a longer distance to go around Cape Breton Island. But if not using fuel and making good speed, the longer distance is not a net loss. Might actually be a net gain. Meaning little to no fuel used going east. Conserving it for going north and eventually west. While the Canso option would also mean no fuel going east this time around. But it would be more fuel expended going north than was likely to happen by the longer Cabot Strait route because of the chance of light favorable wind to keep resistance of the rig from being a factor while motoring.
Forecasting for waters in the Gulf of St. Lawrence indicates tomorrow will bring northwest wind. If we can get through Cabot Strait and some bit into the Gulf, there will be sea room for sailing close hauled toward the north with the new northwest wind. Come Wednesday the northwest wind is supposed to weaken and swing toward the west. And is forecast to die off later Wednesday. And be followed Thursday by weak south, southeasterly, and easterly breezes. More motoring. But again with reduced resistance. And maybe a chance to sail around the north side of Gaspé Peninsula.
We shall see what we shall see.
Captain Jan C. Miles