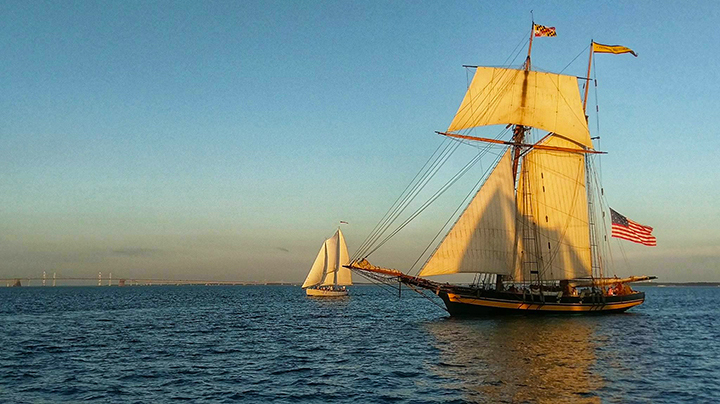 Pride of Baltimore II sailing off Annapolis, September 29, 2017, by Charlotte Faraci.
Plans to build dynamic, strategic board
FOR IMMEDIATE RELEASE
October 15, 2018
Contact: Erica Denner
410.539.1151; erica@pride2.org
BALTIMORE, MD – Pride of Baltimore, Inc. (Pride), the nonprofit that manages the tall ship Pride of Baltimore II (Pride II), is pleased to name Jayson Williams, founder, president, and CEO of MD Strategic Consulting, as the new chairman of the nonprofit entity.
"Pride of Baltimore II evokes extremely positive memories from my childhood, so I was excited to be invited to join the board in 2016. It is an honor to be asked to serve as board chair," said Williams. "I am looking for dynamic, strategic thinkers to join us as we expand our board of directors and ensure that Pride II continues to sail well into the future. Pride has always represented revitalization, excitement, and goodwill for Baltimore City and the State of Maryland. We look forward to engaging people to remind them of that."
Captain Eric Nielsen, president of the Association of Maryland Pilots, recently completed his second three-year term as chairman. "Jayson has brought a high level of energy and enthusiasm to the board, and I think that he will bring even more energy as chair." Captain Nielsen was instrumental in stewarding the organization through some challenging financial times. He will remain on the board of directors as immediate past chairman.
Earlier this year, the organization announced a commitment of funding from the State of Maryland for $500,000 per year for the next five years. While the renewed state and local funding is critically important, Pride of Baltimore is focused on expanding its outreach and partnerships with the business community, foundations, nonprofits, individuals, and other sources to secure operational funding each year, implement a strategy for long-term transformational gifts, and integrate Pride II into communities everywhere in a meaningful way.
More About Jayson Williams
Jayson founded MD Strategic Consulting to support businesses, nonprofits, and government entities in business development, marketing and communications, public relations, and political relations.
A proud graduate of St. Mary's College of Maryland, he has worked for local, state, and federal government entities, as well as major labor unions in the D.C. area. Prior to launching MD Strategic Consulting, Jayson worked for Maryland State Senate President Thomas V. Mike Miller, U.S. Senator Barbara Mikulski, U.S. Senator Ben Cardin, and Prince George's County Executive Rushern L. Baker III. He was also vice president for strategic alliances for the Prince George's County Economic Development Corporation, where he spearheaded major government public private partnerships and played a key role in enabling the development of the $1.2 billion MGM National Harbor.
About Pride of Baltimore II
Baltimore Clippers, sleek, fast, and maneuverable vessels, gained fame as privateers during the War of 1812. Their success in capturing British merchant ships provoked the Royal Navy to attack Baltimore in 1814. Francis Scott Key, seeing the American flag still flying over Fort McHenry after the 25-hour British bombardment, was inspired to pen the "Star-Spangled Banner."
Pride of Baltimore II, like her predecessor, Pride of Baltimore, is a reproduction of one of the most famous of these privateers, Chasseur. For nearly four decades, these modern-day prides of Baltimore have promoted historical maritime education, fostered economic development and tourism, and represented the people of Maryland in ports throughout the world. Since her commissioning in 1988, Pride II has sailed 250,000 nautical miles and visited more than 200 ports in 40 countries.
To learn more about Pride of Baltimore II, please visit www.pride2.org.
###