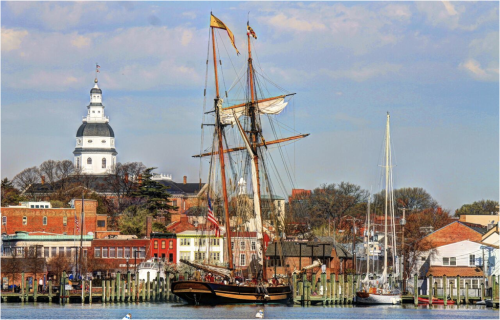 FOR IMMEDIATE RELEASE
Contact: Laura Rodini laura@pride2.org 202-669-3065 (cell)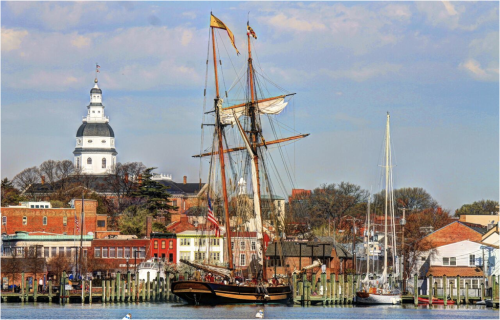 BALTIMORE, July 17, 2015 – Pride of Baltimore II, America's Star-Spangled Ambassador, will serve as the Committee Start Boat for the oldest and longest overnight race on the Chesapeake Bay. The 42nd Annual Governor's Cup Yacht Race will be held July 31 and August 1, 2015 and will depart from Annapolis, the current seat of government, heading 70 miles south to St. Mary's City, the state's original, pre-Revolutionary capital.
As the Committee Start Boat, Pride will occupy one end of the starting line. Officials on board will go through the starting sequence and officially begin the race. Members of the press are welcome to capture the race's exhilarating start from aboard Pride. To RSVP, contact Laura Rodini at laura@pride2.org or 202-669-3065 (cell).
"For many years, Pride of Baltimore has had a great relationship with the Governor's Cup, and this year we are thrilled to function as the Committee Boat," says Executive Director Rick Scott, "This is the 2nd year in a row that Pride will serve in that function. We are also looking forward to celebrating Pride's rich heritage with the citizens of Annapolis that weekend."
Pride will offer free deck tours beginning at 10 am on Saturday, August 1 and Sunday, August 2 before returning to Baltimore on Monday, August 3.
Pride of Baltimore's 2015 Sailing Season
Pride's 2015 sailing season will run through October. Visitors will have the opportunity to participate in the unique and historical experience of stepping aboard a topsail schooner through our interpretive dockside tours, as well as day sails and overnight guest crew opportunities.
Pride is also available to be chartered for private day sails of up to 35 people as well as dockside receptions for 100; Contact our office for details.
For a complete schedule of Pride's activities, visit www.pride2.org.
To learn more about the Governor's Cup, click here.
About The Pride of Baltimore
For nearly four decades, the Pride of Baltimore and the Pride of Baltimore II have represented the people of Baltimore, spreading a positive message and extending the hand of friendship throughout the world. Since her commissioning in 1988, Pride II has traveled more than 250,000 nautical miles and visited 40 countries in 200 ports. Pride II has become one of the most well-known U.S. sailing vessels in the world, capturing the imagination of millions of people.
For more information, contact Laura Rodini at laura@pride2.org or call 202-669-3065.