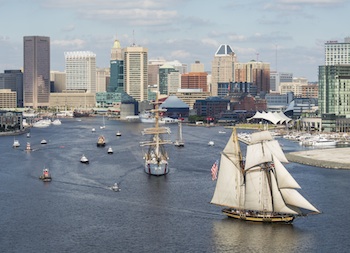 Greetings!
When I began working with Pride in 2013, we were in the midst of a series of bicentennial events commemorating the War of 1812, which lasted from 1812 to 1815. Yes, the Treaty of Ghent officially ended the war in December 1814, but news was slow to travel in those days and the Battle of New Orleans was fought in January 1815. And Chasseur, one of the most successful privateers of the war, did not return to Baltimore until spring 1815. Upon her arrival, she was greeted by cheering crowds and dubbed the "Pride of Baltimore." This was a critical time period in the early history of the United States and culminated in the penning of our national anthem, "The Star-Spangled Banner."
It has been an honor to have served as executive director over the past few years as Pride was central to so many commemorative events. From 2012 to 2015, we welcomed more than 200,000 people aboard, educated thousands of children, engaged our local communities, provided use of the vessel for corporate and non-profit use, captured the imagination of hundreds of thousands of individuals, and attracted millions of dollars in ad value from the media we generated promoting Baltimore and Maryland.
I have been inspired by the many people I have met who have a personal story, a real connection, to Pride. Our history, our heart, and our soul are in Baltimore and in Maryland, and we want the rest of the world to discover and enjoy Maryland's Pride. As we set sail in 2016, we continue our nearly four-decade mission to promote historical maritime education, foster economic development and tourism, and represent the people of Maryland in ports throughout the world. We accomplish this by providing free educational deck tours, student programs, public day sails, overnight guest crew opportunities, private charters, dockside receptions, and partnering with the corporate and non-profit communities to extend their impact.
I am very excited about Pride's next chapter! In 2016, our plan is to sail in the Chesapeake Bay in spring and fall, and voyage along the East Coast and into the Great Lakes during the summer. When we are sailing our local waters, we will welcome aboard thousands of students, local citizens, and visiting tourists, and partner with dozens of organizations and corporations to host dockside receptions or private charters. As we travel to the Great Lakes, we will participate in tall ship festivals, introducing tens of thousands of individuals to Maryland's Pride and continuing to spread positive messages of Baltimore and Maryland as we travel regionally and nationally.
We need your support to keep the wind in our sails!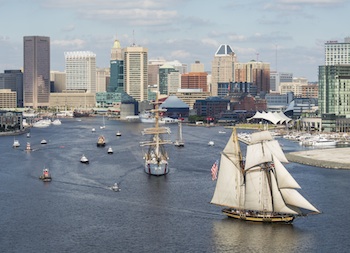 Since the economic downturn of 2008, many tall ships throughout the country have had their share of financial challenges. We have witnessed our sister ships tied up, not operating, or even put up for sale. Pride, Inc. is fortunate that we have had a small endowment to help bridge our gap in funding each year. We are also fortunate to not have any debt and a very well-maintained vessel that, with prudent care, can easily sail another fifty years. However, because we have been sailing in local waters for the past two years, we have some maintenance we need to complete to prepare for ocean voyaging in 2016. We estimate needing approximately $70,000 for this deferred maintenance, including:
• Caulking to preserve the physical strength of the vessel.
• Replacing one of our sails (fore staysail) for age-related issues.
• Replacing our satellite transceiver, satellite phone, and some communications equipment (laptop, phone, radio) to meet regulations.
• Servicing our magnetic compass for continued long-term dependability.
• Overhauling our emergency rescue boat – again, age-related – for continued dependability during any emergency operations.
Please click here to help us complete this necessary maintenance in 2016!
Since her commissioning in 1988, Pride of Baltimore II has become one of the most well-known U.S. sailing vessels in the world, sailing 250,000 nautical miles and visiting more than 200 ports in 40 countries. She has captured public imagination worldwide and spread positive messages of Baltimore and Maryland. With your help, we can keep her sailing and inspiring people for generations to come.
During this season of giving, we ask that you make a donation to keep Pride sailing, and provide support for our upcoming maintenance needs. Every donation – regardless of the amount – makes a difference! Please be sure to check with your employer to see if they will match your donation and double your impact.
And, just by donating on December 30 and December 31, you will be entered to win a Day Sail for Two in 2016! It's our gift to you. As always, we thank you for your  continued support.
Wishing you and your loved ones a happy and peaceful new year,
Rick Scott
Executive Director, Pride of Baltimore II