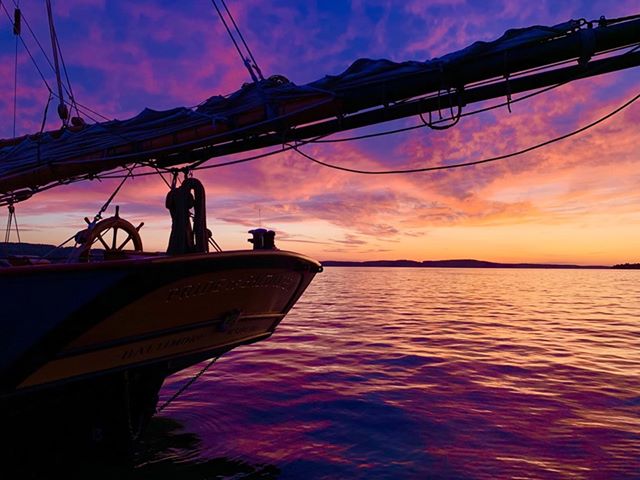 Photo: Sunset in Boyne City, courtesy of Daniel Duncan
Date: Thursday, August 22, 2019
Position: Northeast Lake Michigan motoring northward against a north wind
Pride departed Lake Charlevoix and Round Lake at the town of Charlevoix at 10:30 in the morning, heading toward the Straits of Mackinac (pronounced "Mackinaw") ahead of continuing toward the bottom of Lake Huron — the first portion of a 700+-nautical-mile transit toward Brockville, Ontario, at the east end of the Thousand Island area of the St Lawrence River.
Boyne City for six full days spanning a weekend was both productive and restful. At least less pressure on the crew than is the average tall ship festival 3-day weekend preceded and ended by additional arrival and departure day formalities. Boyne City was productive for both engaging with the public and experiencing fully booked day sails, plus getting a bunch of ship maintenance done. Restful in the sense that all members of the crew received two days off within the six day visit, rather than the average of one day a week that is the norm for a busy Pride sailing season … With or without back-to-back tall ship festival weekends.
Why call into Boyne City? Now that there is a dock there that can accommodate vessels even larger than Pride, it is the closest the ship can get to Walloon Lake, where a longtime Baltimore family by the name of Kidd have spent summers for the last half century or more. They have generously hosted a day of R&R for crews of Pride since the summer of 1981.
Back when Pride of Baltimore, Inc. was formed in 1980 to assume management of the first Pride of Baltimore as a favor to the city of Baltimore, Jack Kidd was the head of sales for the Maryland-based manufacturing company Tate Access Floors. The company makes special flooring for businesses needing to have plenty of computer cable space. Jack believed in the magnetism of Pride of Baltimore to attract and preserve business relationships. Wherever Pride went, anywhere on the East Coast, and all over the Great Lakes, he would charter the ship for dockside receptions for Tate Access marketing outlets and their clients. During my first year with the Pride Legacy back in 1981, as a thank you to the crew for their work during that Great Lakes campaign, he convinced this captain to add a stop and sail the ship into the port of Charlevoix so he could host the crew to some R&R in a lovely part of Michigan. Over the decades, mostly with the second Pride, he and his wife Ann would have the crew over to their home on the shore of Walloon Lake whenever the ship was able to spare a couple of days during a Great Lakes campaign. Over the three decades of the second Pride, she has had a campaign in the Great Lakes an overall average of every three years. Each time, the Kidd family has hosted Pride's crews for a Lake Walloon R&R occasion. Over time this tradition has been taken up by the sons Kidd.
This most recent visit to the Kidd family homestead on Walloon Lake included their assistance to Pride, Inc. staff with organizing local publicity for the ship's visit. Notifying locals of the opportunity to learn about the 1812 War in the Atlantic directly from a reproduction of the most notorious American privateer models that exclusively came from Baltimore shipyards, today referred to by historians as Baltimore Clippers. But also to learn about Baltimore and Maryland's most worldwide renowned sailing vessel. More recognized and known by today's world than any currently sailing American sailing vessel. And, oh, by the way, please also come for a short day sail or sunset sail in Lake Charlevoix. No better way to learn about Maryland's and Baltimore's Pride. Wouldn't you say?
Suffice it to say, all day sails were full. There were at least two local TV news videos about Pride's visit to Northern Michigan (code for the northern lower peninsula of Michigan … just in case you were confused). And deck tours were well attended. Small town regions are like that. Especially when they are well connected to the internet. Considering just about all citizens, local or not, young and old, are carrying smartphones, I think it ought not be a surprise that a strong turnout was witnessed. So, many thanks to the Kidds for connecting Pride, Inc.'s media staff.
UPDATE
Sunday, August 25, 2019
Position: At anchor in Cleveland
Got here late Saturday afternoon. Actively avoiding a contrary wind pattern blowing right now over Lake Erie. Dry weather in a protected anchorage adds to the chance to get maintenance done. 'Tis tough to have weeks of back-to-back weekend port stops with the required transits between and also get more than essential maintenance done. Our time in Boyne City provided a catch-up day of more than just essential maintenance. Some painting. Some varnishing. Some rigging care. Some mechanical power and systems upkeep. With today's waiting for favorable wind rather than bounce around out on Lake Erie with it, another very beneficial maintenance day is underway. More paint. More systems care and checking. More rig care and maintenance.
When do we get underway again? Looks like an early departure Monday. And it looks like the wind forecasters continue to be correct, starting some few days ago, about this period of contrary wind. Ending by or before mid-Monday. For the early part of Monday, I think we can actually go ahead and get underway and use wind that would otherwise be contrary if we were starting out from other than Cleveland. Here in Cleveland, we are at one of the most southerly ports to be found on Lake Erie. A southeast wind can be used to get toward the east as the south shore of Lake Erie in this part of the lake runs near northeast. Maybe we can time this next leg toward the eastern end of Lake Erie so that it is all favorable wind. Meaning as we advance toward the east end, we experience a conveniently timed wind direction change toward the south, as forecast. And arrive at the Welland Canal Tuesday morning.
That'd be nice. Especially with Tuesday morning arrival, there is no major hold up in the Welland Canal. Upbound back in early July, we had a 24-hour wait before Pride could be permitted to transit the eight locks of the Welland. That was not an issue of congestion. Meaning not so many commercial vessels that Pride as a lower priority class had to wait for. Nope. The problem was no extra Welland Canal staff on hand to perform as line handlers in the locks. Over the last two to three decades, there has been near continuous trial of an automatic system to keep ships in locks from moving forward and aft-ward while the lock is filling or draining. Without an automatic system, staff at the locks and on the ships were needed to send and retrieve mooring lines that were used to keep a ship in position. The automatic system is now dependably working for ships that are of enough size to receive the vacuum clamps that are sent out to the ship's sides when in a lock. Ships not large enough cannot use the automatic system. Seems there are so few smaller vessels that the staff of the canal locks have been reduced. Coordinating with vessels that cannot take advantage of the automatic systems booking/reserving the needed line handlers seems difficult. With plenty of warning, maybe this downbound experience will not suffer undue delay for lack of line handlers.
Here's to hoping.
Captain Jan C. Miles