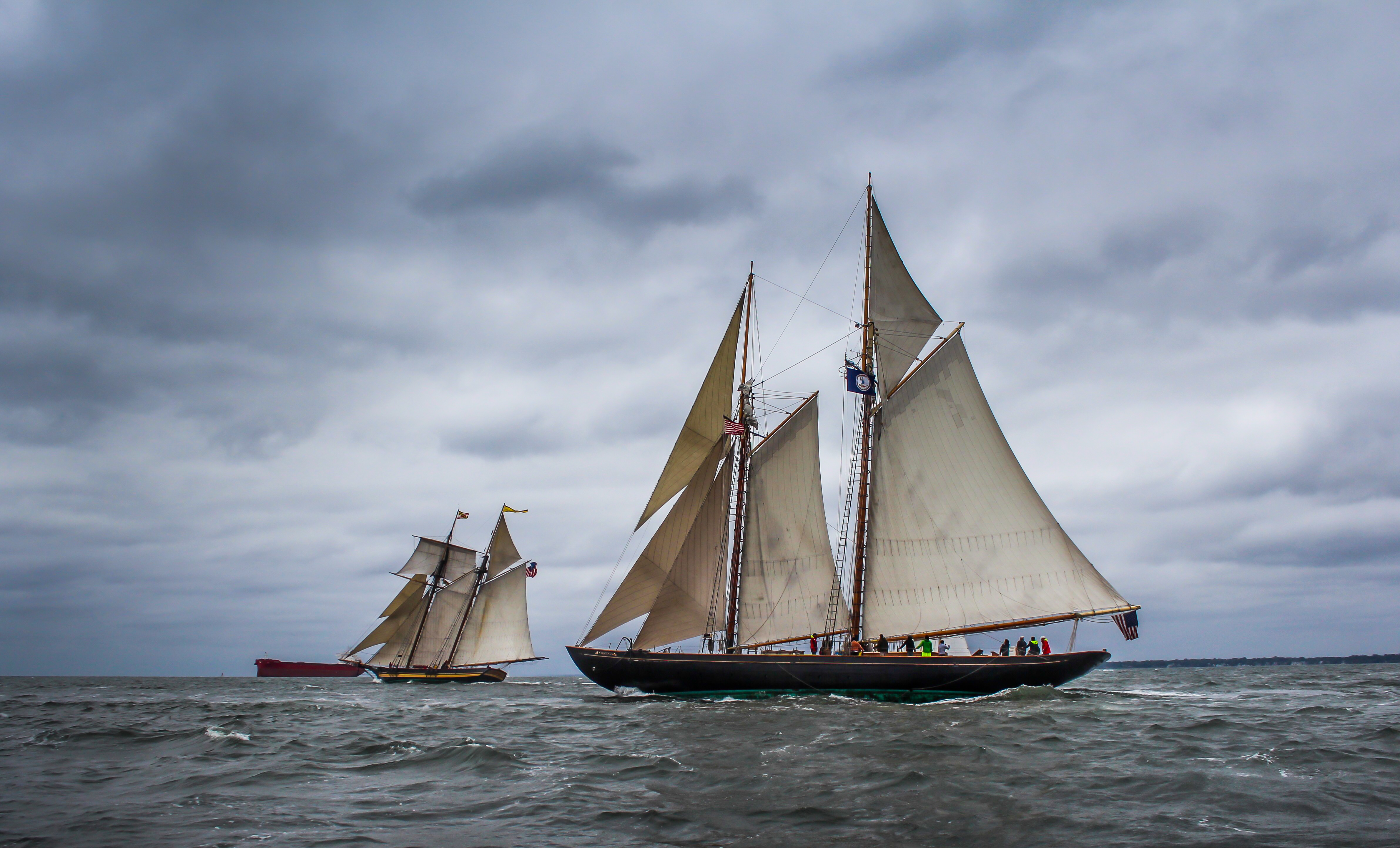 Date: Monday, October 16, 2017
Position: Portsmouth, Virginia
2017 Great Chesapeake Bay Schooner Race
The results of the 2017 GCBSR are already known. Due to the weather, all competing vessels sailed at their maximum speed for the whole length of the race. There was not much strategizing to do with wind coming from a fair direction; from the start, all vessels were mostly steering directly for the finish line as fast as they could sail. The most strategic decision was how much white-knuckle sailing was acceptable, meaning how much and what kind of sail to set. Aboard Pride of Baltimore II, it was not possible to have her studding-sail up for much of the race. It was set north of Bloody Point, but had to be taken in by the time she reached Poplar Island due to stronger gusts. Around dusk, abeam of Point Lookout in the center of the bay, we struck the main gaff-topsail and the top-gallant due to increasing gust strength. All of these decisions were not due to the overall wind strength, but due to the angle of the wind as it came across Pride. Had the wind direction been more northeast than it was, meaning the ship was experiencing an apparent wind angle of around 100 degrees, we could have kept all the kites up. But with apparent wind angles hovering around 60 to 70 degrees, the ship was unable to stand up to the pressure without risk of burying her lee bulwark. Prudence prevailed and Pride continued down the bay right along with the vanguard group of the racing fleet led by Virginia and followed by the three-vessel group of Summerwind, Woodwind, and Pride.
It was with admiration and enjoyment as I watched Virginia pass Pride by soon after the start and then persist in elongating her lead. She finally led Pride by roughly an hour and eleven minutes over the 118 nautical mile course. Considering there is more than a full century of development in naval architecture knowledge and construction technology between the two vessel types (maybe the most significant being common-thread metal fastenings) it is easy to imagine just how stunned the world must have been with the totally unique Chesapeake Bay watercraft of the War of 1812 and their success as privateers. Since the war, Baltimore Clippers, as the schooners were later nick-named, have been admired for both their beauty and performance, and whose design has been copied and used around the world for transporting high value cargo in high risk circumstances, both legal and illegal.
Lady Maryland was also truly impressive. She is a reproduction of another venerable Chesapeake Bay watercraft known as the Pungy Schooner, developed during the mid-1800s and therefore also advantaged by the easy availability of common-thread fastenings. This advance in technology allowed for a much lighter and as a result, speedy hull form for efficient commercial transport. Shorter than Pride, it stands to reason she would not be quite as fast, but she was a mere two hours and 32 minutes behind Pride. Meanwhile, only three hours and forty-five minutes behind Virginia.
Woodwind is another interesting study for me. She is truly representative of modern construction techniques available these last three to four decades, meaning wood lamination. This technique reduces the weight of construction and permits for an extreme hull shape as compared to bent wood pieces found in traditional wood construction represented by other vessels in Woodwind's single A-class, like Summerwind. As a seventy-foot schooner, her modern construction permits her to be modernly-shaped under the water, while looking pretty classic to the middle of the 20-century above her waterline. Her underwater shape is akin to a flat bottom canoe with a long and stout two-thirds-waterline-in-length blade/fin attached below. With enough wind from a fair direction, plus quite a bit of gumption from her crew, she can beat the waterline-length rule of thumb for hull speed through water. She stayed ahead of Pride and remained very close to Summerwind and not far from Virginia notwithstanding her significantly shorter waterline. There was a gap of nearly an hour and a half between Pride, the fourth in the vanguard of four vessels (two double-A and two single-A class vessels), and the next finisher: a single-A class vessel.
The surprise for me was being recognized for the Black Dog Trophy during the awards ceremony! I was nearly speechless! Captain Lane Briggs remains a giant in our midst! To be included with those also recognized for being akin to his renowned character is stunning to me. I knew I needed to respond to receiving the trophy and speak to the audience about my feelings of being bestowed such an honor. What to say? How to say it? Completely spontaneously, I thought to share first-hand my experience of Lane's challenge: a race between the newly christened and launched Pride of Baltimore II and his tugantine, Norfolk Rebel, down the bay for a case of beer. Lane, with his gravelly voice and his off-hand manner of speaking sound and well considered points. It has been almost three decades since that experience and this 2017 GCBSR is number twenty-eight. Congratulations to all for your consistent and persistent organizing of and participating in "The Great Chesapeake Bay Schooner Race!" I believe it may be the largest schooner-only race in the world. But even if it is not the largest schooner race, it has to be the most welcoming and inclusive!
Portsmouth, Virginia, continues to be a most welcoming port. It is a quiet town with a wondrous "old town" residential area. We are holding off our departure, bound for Annapolis, due to fresh northerly winds this Monday. We are getting some ship care done while we wait for the contrary weather to reduce. There are always wants of care for this complex, well-traveled, nearly three-decade-old traditionally constructed wooden vessel. So no time is being wasted.
Signed,
Jan C. Miles Senior Captain