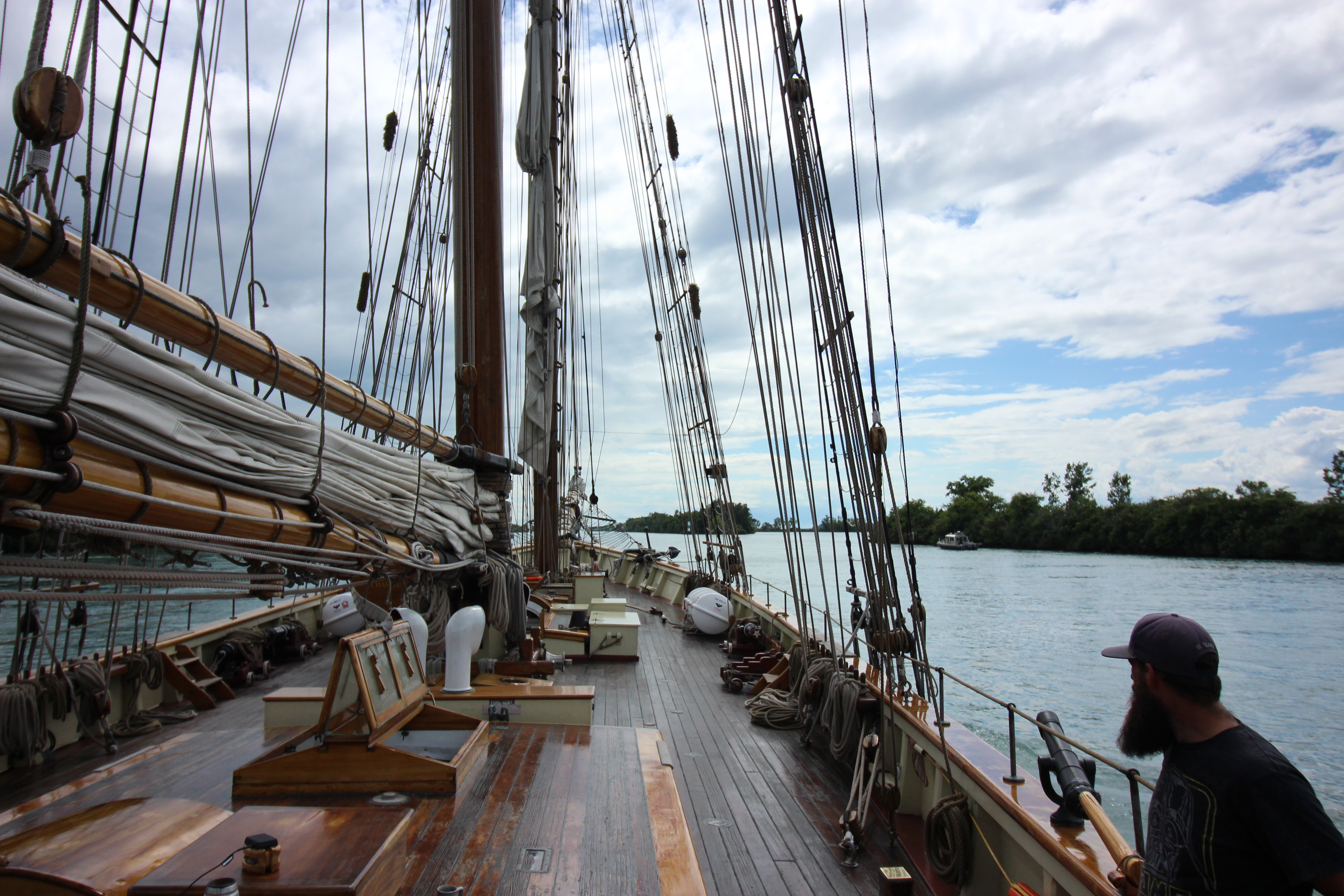 Date: Sunday, September 4, 2016
Position: Lorain, Ohio
Pride of Baltimore II is in Lorain, OH, hosted by the Lorain Port Authority. She is tied alongside a very nicely built and well designed dock alongside a park used for public events such as concerts and festivals. The property is owned/managed by the Lorain Port Authority and is certain to have been a heavy maritime commercial facility before being repurposed for community activities. I find it interesting that a "port authority" is directly involved with community social events. Often I have seen port authority property "borrowed/lent" to community social events. Such occurrences mean temporarily using otherwise heavy commercial spaces, not nicely maintained lawn, sidewalks, trees, bushes and flower beds. I am pleasantly surprised by what I would describe is imaginative governance of a public asset through repurposing of idle heavy commerce property in a way that maintains a benefit to the public rather than conversion to a narrow private interest.
All the above by way of introduction to my multi-decade experience of hospitality extended to visiting traditionally styled sailing vessels by smaller Great Lakes harbors.
I have been commanding traditional sailing vessels of the so-called "tall ship" type through the Great Lakes since 1981. Over these years I have participated in commanding salt water vessels into and out of the Great Lakes 14 times, the majority of which were entire round trip tours in and out of the Great Lakes. The other trips have been shared with "partner captains" through a take-turn relief schedule. Since 2001 most of the Great Lakes voyages have followed the tall ship port festival tour schedule coordinated by Tall Ships America, all of which are significant events with numerous vessels visiting a host port at the same time. The hospitality and enthusiasm during such events is not surprising, considering the myriad goals for creating an event to be remembered in appreciation for years after. In between these significant multi-vessel events are the random coincidental/accidental/fortunate-timing occurrences for a single vessel visit to a port for what might be called "a single sailing ship festival."
Such single vessel visits frequently occur with little advance planning. A kind of "magic" comes to the fore involving communication between imaginative folk with local knowledge and gumption together with logistical folk (captains and ship office staff) to explore the availability/interest of the ship and to review of realities concerning the ship actually arriving and staying a while.
Each experience I have had in the Great Lakes has included at least one unforeseen visit to an unscheduled port wherein the local enthusiasm for the vessel is as warm and supportive as can be imagined. Beyond getting the ship securely docked and able to access utilities (electricity, drinking water, etc.) and providing safe public access to the ship, there are the ship and crew interests/needs to attend to, like preparing for the next time the ship will be out on the water for an extended time when going to the next port. Local transportation is volunteered for groceries, laundry, vessel parts or even repairs of technical items, all of which are worked around unaligned, typically spontaneous invitations by locals noting the arrival of the vessel to their port for crew dinners ashore either by individual families or local groups.
Another trait of these serendipitous port hosting visits is the in depth interest in the ship. Cogent questions about her and what life is like aboard for the crew; the route the vessel took to get into and out of the Lakes (there is more than one); where in the Lakes the ship has been and where it is going; and always the celebration of pride and mutual admiration and curiosity for the ships of the Great Lakes…the iconic "laker." Such questions and more relaxed depth of conversation are possible through public visits of less volume. The full-on tall ship festivals with several vessels in port mean significant crowds, hence nearly mono-syllabic answers to almost thoughtless questions of curiosity due to crowd pressure to get aboard all of the vessels in a single day as well check out the shore side displays. The big-crowd festivals get in the way of pleasant and un-rushed conversation between visitor and crew, whereas a single ship in a smaller city port more often results complete conversations, something a vessel's crew actually find more enjoyable and refreshing than the innumerably repeated questions from what might be more than a couple thousand deck tour visitors per day for several days in a row.
Similar single small-port hospitality is to be found on the other three "coasts" of the contiguous United States. I have experienced such hospitality on all four coasts (East Coast, Gulf Coast, West Coast and "north coast" Great Lakes). However, it is the Great Lakes that stand as the most consistently persistent in a nearly unbound enthusiasm for ships of all types – not just for their iconic lakers but also for the "salties," the commercial ships that come from outside the Great Lakes; there is a steady and strongly expressed appreciation for tall ships. Even with an organized, multi-port tall ship festival tour of the Great Lakes every three years, it is my observation that the enthusiasm by the citizens on and near the shores of the Great Lakes has not dwindled. This enthusiasm is greater than and more persistent than any of the other three coasts. Not that there is not enthusiasm and appreciation for tall ships on those other coasts, but those coasts have shorter winters, hence longer temperate weather periods than those that occur on the Great Lakes. Longer seasons might mean longer exposure to tall ships. Also, by not being surrounded by land (as are the Great Lakes, hence a land-bound population), the other coasts see more tall ships of varied types merely doing their individual annual work getting from port to port or working out of their homeport. It is a long way into the Great Lakes for any salty, and the local "tall ship" fleet of the Great Lakes is small both in number and in average size. So, maybe it makes sense that the enthusiasm for tall ships remains constant over time.
So, Great Lakes ports are greatly hospitable. This year's Great Lake sojourn by Pride of Baltimore II has included single ship festival stops in Cape Vincent, New York, Boyne City, Michigan, Bayfield/Madeline Island, Upper Peninsula, Michigan, and Lorain, Ohio. All have provided an experience of intimacy not found in the also very welcoming multi-vessel tall ship festivals of Toronto, Ontario, Canada, Fairport Harbor, Ohio, Bay City, Michigan, Chicago, Illinois, Green Bay, Wisconsin, Duluth, Minnesota, and Marquette, Upper Peninsula, Michigan. Looking forward from here the multi-ship tall ship ports still to be visited are Erie, Pennsylvania and Brockville, Ontario, Canada. After which Pride will head off with all speed back to the Western North Atlantic bound for her homeport in the Upper Chesapeake Bay: Baltimore, Maryland, home of our nation's national anthem, "The Star Spangled Banner."
Signed,
Captain Jan C. Miles