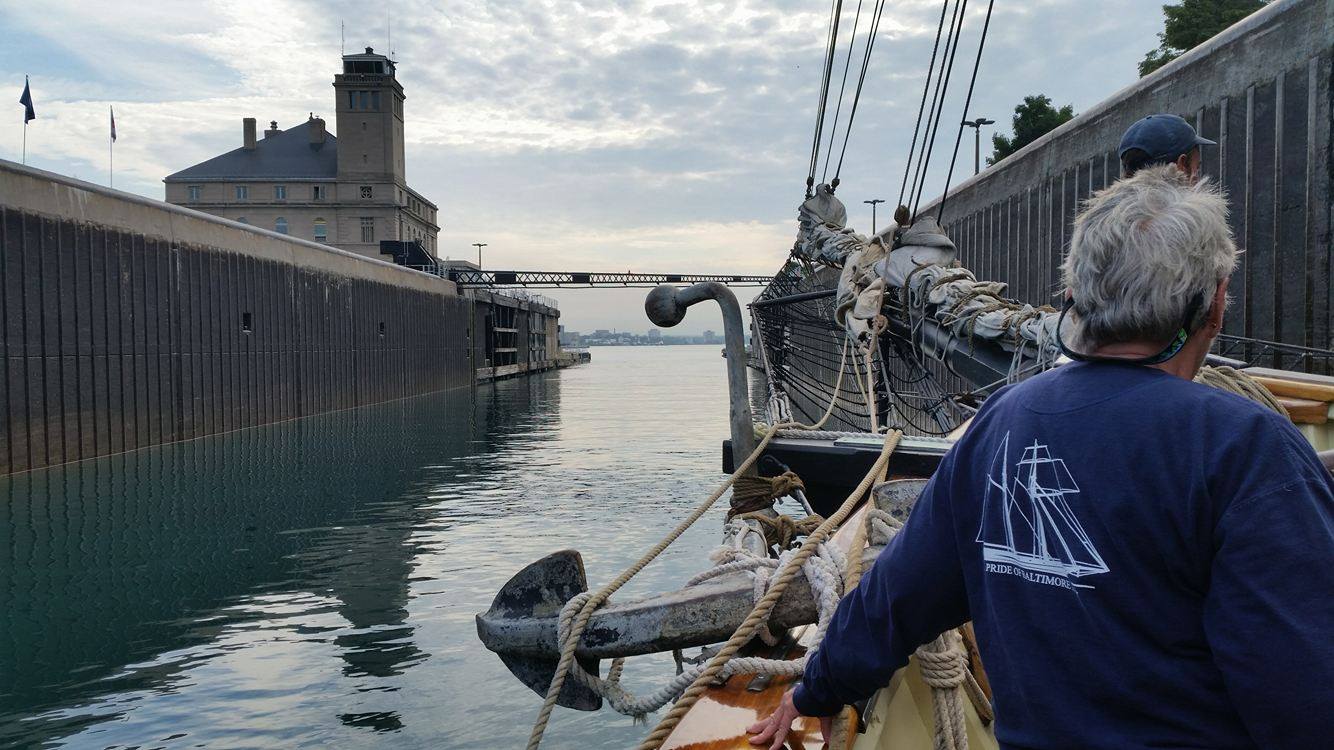 Date: 0500 hours; Thursday, September 1, 2016
Position: South End of Lake Huron, preparing to enter the St. Clair River for the all day motoring run to Lake Erie
Dawn is to be near 0700 today. First light for mariners is to be near 0600. We are dawdling by going slowly under "bare poles" with a northerly wind, biding our time getting into the St. Clair River with early daylight. Once daylight arrives we will start engines and push at a water speed of about 7 knots. With river current, the over the bottom speed could be greater than 8 knots much of the time. Such speed will ensure we can get to Lake Erie well before sunset, providing time to consider an anchorage; we are not due to be in Lorain until Friday (tomorrow).
Planning for a transit starts with using an average assumed speed that can more or less be guaranteed. Over decades of itinerary planning for both Prides, being tardy to a scheduled stop might have occurred a dozen times; a pretty good performance I would say. Small sailing vessels and vagaries of wind direction can conspire to ruin any leg of an itinerary. Such vagaries can also put the ship well ahead of expected time of arrival. This is the situation for this transit from Marquette, Michigan, on the south shore of Lake Superior, to Lorain, Ohio, on the south shore of Lake Erie, a distance of around 500 nautical miles with two significant sections of narrow navigation in rivers between three of the Great Lakes.
It is nearly 150 nautical miles from Marquette to the "Soo" Locks at Sault St. Marie at the head of the St. Mary's River that streams Lake Superior water into Lake Huron. Pride covered roughly 120 of those 150 miles in 11 hours. The wind was a moderate 15-20 knots from the south. The course being east meant a beam breeze. Such a situation enables Pride to sail at or more than 10 knots; this rush forward was fun! It was a lovely temperate day with a somewhat overcast sky. Being close to the southern shore, Pride was in smooth water (in the lee of it). We saw the "Pictured Rocks" cliffs off at a distance. Very little color was notable from the stratified layers of various metals in the earth…chiefly iron, due to a high angle sun and mostly cloudy sky. We saw significant Michigan Upper Peninsula sand dunes further to the east as Pride tracked eastward along the shore.
We dawdled in Whitefish Bay overnight and waited for daylight to enter the St. Mary's River so as to have all day Tuesday to get to Lake Huron, almost 100 miles along. The passage of the Soo Locks was without event; however there was a lot of radio conversation within the Locks regarding up-bound traffic of the longest cargo vessels found in the upper four lakes. There is only one lock long enough to handle them. It seemed by the conversation there was some half dozen of such vessels cueing up to pass through that single lock. Each passage is a lengthy process; as each additional ship appeared with the desire to pass through, vessel traffic radio dispatch advised each of the wait and the need for all newcomers to slow down if they harbored hopes of not having to anchor to wait.
Winds were favorable from the north at 15-20 knots starting Tuesday evening and on through the whole length of Lake Huron. Not great sailing considering we were to steer south. Schooner rigs can be uncomfortable when going downwind – there is the possibility of jibing the sails from side to side. Pride has a square-sail. Considering her speed under that one sail with such wind and the distance to travel to the bottom of Lake Huron to the entrance of the St. Clair River, there was a need to sail slowly if we were to arrive at the St. Clair River entrance for daylight Thursday morning. There was no way to sail fast enough to arrive early enough on Wednesday and make the narrow channel distance all the way to Lake Erie in daylight, so sailing slowly it was. Sometimes under bare poles, sometimes with the square fore-topsail set.
Signed,
Captain Jan C. Miles