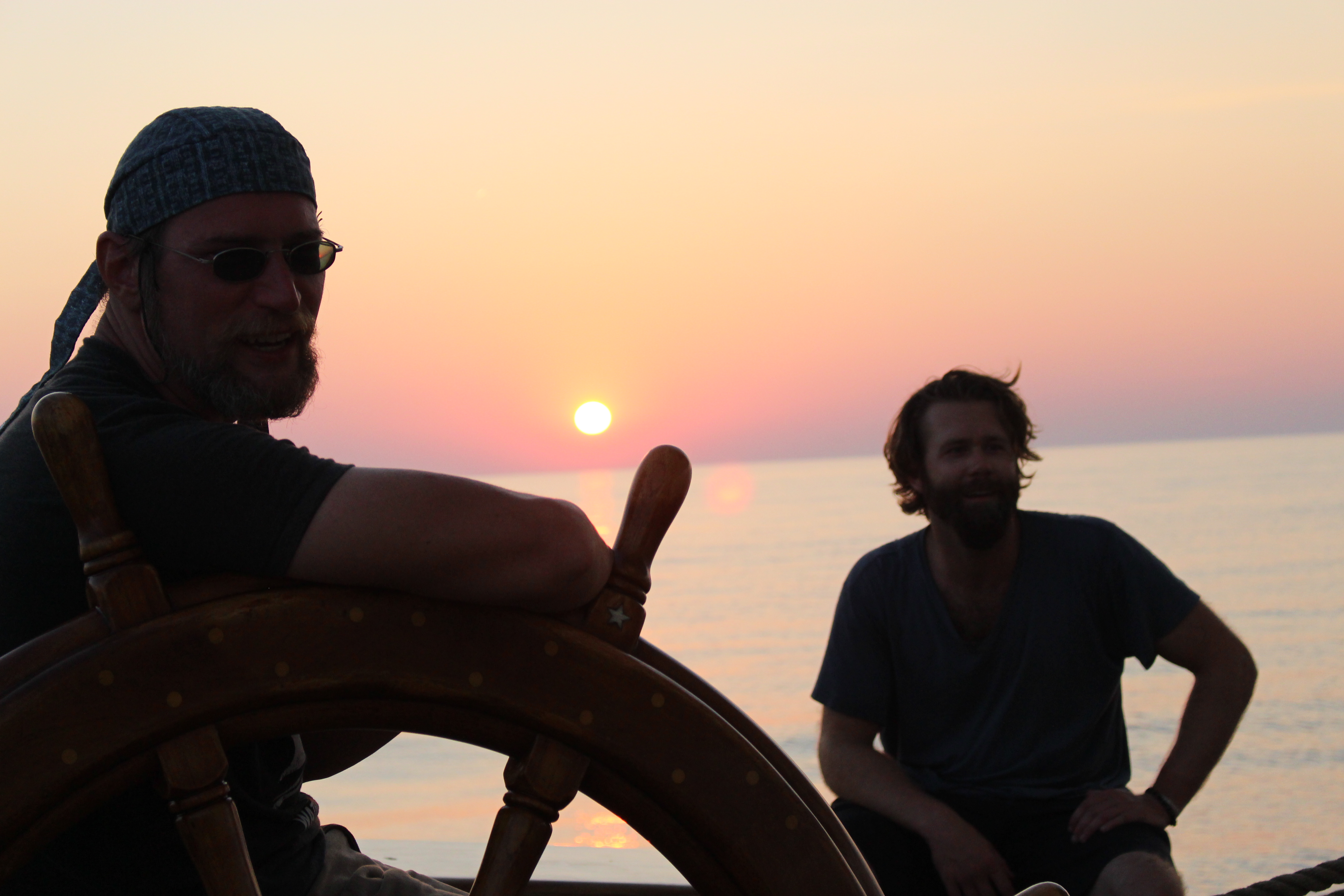 Date: Thursday, September 22, 2016
Position: North shore of Gaspe Peninsula
For anyone that goes to the effort, they can gain a sense of Pride's progress via web sites that monitor various transmissions from vessels.
SAILWX is a web site that monitors the weather observations taken by crew of ships that is sent to government weather services like United States Weather Service via a maritime satellite information system called INMARSAT-C. However, this system is less regular in the frequency of positions recorded, partly due to how distracted a vessel's crew is by shipboard responsibilities. Special software that does the coding requires the data observed to be carefully entered by crew, which can take a bit of time after the actual weather observation is made. The elements recorded are many. The obvious ones are barometer and temperature, along with wind direction and speed. But associated with these three are also indications of trend, meaning coding the direction of change trends over the last 6 hours. When you add water temperature, cloud descriptions, dew point, humidity, sea state (wave size, direction of travel…maybe more than a few different wave directions), and others, the amount of specific data to be entered increases by a multiple of 2-4 – all that takes time. Sometimes the time disappears through sailing needs.
Another means for observing Pride's location is from her AIS transmissions presented by web sites that gather such information from AIS receiving stations on shore. These transmissions are fully automatic and nearly constant, hence always "out there" for receivers to receive. There are "blank spots" where there are no shore stations. There is a lot to be seen about a ship via AIS sources. Often these web sites provide a number of photos of a ship, its dimensions, and the destination it is headed, plus the actual track over the past several hours.
Pride of Baltimore II passed by the Canadian port town of Matane on the southern shore of the lower St. Lawrence River this morning. We are about 4-5 miles offshore. We have a favorable wind from behind. Air is cool, down to near 50°F by dawn, warming up during the day when standing in direct sunlight to probably just above 60°F. In the shade, with a breeze, it is back to feeling around 50°F. The sea is more or less smooth. The decks are dry. The on-watch crew are taking advantage of the currently dry and relatively smooth conditions to get some cosmetic maintenance done. Port stops for festivals take up all the available day time with visiting public deck tours. Hence a vessel can fall behind on appearance care. And even if that care is not falling behind, there is always need to preserve good cosmetic condition by additional care.
So no, the crew is not standing idly around while Pride glides along in comfortably benign and favorable conditions. Every reasonable opportunity is taken to care for the vessel's appearance while at sea during a voyage because in-port time usually is taken up by other demanding activities.
Meanwhile, Pride is a machine run by her crew. The bits of this sailing machine we call "Pride" require constant monitoring for safe and dependable function. Thus, in addition to cosmetic care, there is the regular and frequent inspection while underway for the working condition of all the parts of a sailing vessel. In addition to these inspections, all the parts of her onboard "systems" are regularly checked such as auxiliary propulsion power, as well generation of electrical power when auxiliary propulsion power is not being used for water-making, battery charging, refrigeration, and freezing as well other systems like lighting for inter-ship visibility as well life below…just to mention a "few things" to be monitored all the while Pride is underway.
A voyage aboard any vessel involves the crew being very regularly engaged with the constantly changing conditions of the voyage as it impacts the vessel on her way to her obligations at her destination port. Pride is homeward bound all the way to Baltimore from her starting point of her last Great Lakes in-port "tall ship festival" of Brockville, Ontario, Canada. We have until Thursday, October 6th to cover the nearly 1,900 nautical miles between the two ports via a circuitous route around Eastern Canada thence to Mid-Atlantic, USA. The time is enough to mostly sail Pride home rather than merely motor her home on a route that can provide contrary, boisterous, not-really-sail-able weather as well as benign, comfortable, and very-sailable weather.
Right now, life for all of us aboard Pride of Baltimore II is very good indeed!
Signed,
Captain Jan C. Miles