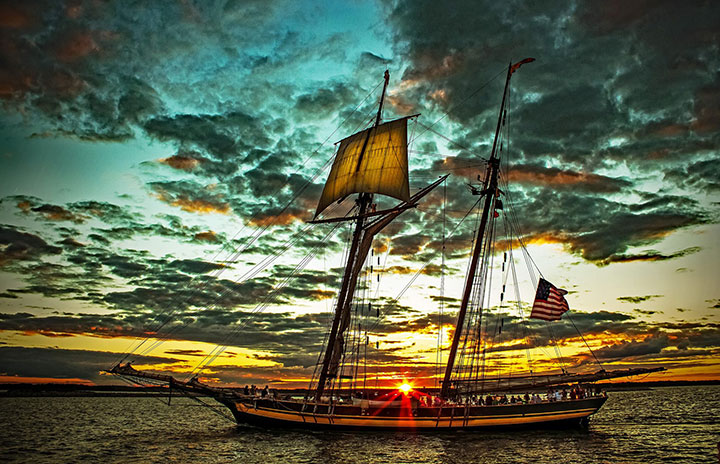 Pride of Baltimore II in Green Bay 2016 captured by Larry Janssen.
FOR IMMEDIATE RELEASE
December 18, 2018
Contact: Erica Denner
410.539.1151; erica@pride2.org
BALTIMORE, MD – Pride of Baltimore, Inc. (Pride), the nonprofit that manages the tall ship Pride of Baltimore II (Pride II), is pleased to announce that Jeff Buchheit has been chosen as the new executive director of the nonprofit.
"I could not be more excited to take on this new role as executive director for Pride of Baltimore. After almost 30 years in the nonprofit world, I am honored to use everything I have learned and all of the relationships that I have built in the city of Baltimore and the state of Maryland to chart Pride's future course in partnership with Pride's board of directors and staff. We are going to work very hard and have a lot of fun doing it," said Jeff.
"After interviewing a dynamic and well-qualified slate of candidates, we selected Jeff to serve as executive director," said Jayson Williams, the new chair of the board. "Throughout his career, and in particular his 11-year tenure with the Baltimore National Heritage Area, he has moved organizations steadily forward, making them profitable and relevant to the communities they serve. That experience, combined with his business, government and nonprofit relationships, made him the clear choice. Pride II turned 30 this year and the entire board is eager to work with Jeff to ensure that she sails for at least another 30."
Rick Scott, who has served as Pride's executive director since 2013, was recruited by an international nonprofit based in Baltimore. Rick is still strongly committed to the success of Pride and will remain involved as an advisor to the board and to Jeff.
Earlier this year, the organization announced a commitment of funding from the State of Maryland for $500,000 per year for the next five years. While the renewed state and local funding is critically important, Pride of Baltimore is focused on expanding its outreach and partnerships with the business community, foundations, nonprofits, individuals, and other sources to secure operational funding each year, implement a strategy for long-term transformational gifts, and integrate Pride II into communities everywhere in a meaningful way.
More About Jeff Buchheit
Jeff is coming to Pride after serving as the executive director of the Baltimore National Heritage Area for 11 years. Prior to 2007, he served as the assistant director of the Museum Assessment Program at the American Association of Museums and as executive director of the Historical Electronics Museum in Baltimore. Jeff began his career interning at the Smithsonian's National Air and Space Museum and the John F. Kennedy Center for the Performing Arts in Washington, D.C. He holds a Bachelor of Arts from Miami University and a Master of Public Administration from Southern Illinois University.
About Pride of Baltimore II
Baltimore Clippers, sleek, fast, and maneuverable vessels, gained fame as privateers during the War of 1812. Their success in capturing British merchant ships provoked the Royal Navy to attack Baltimore in 1814. Francis Scott Key, seeing the American flag still flying over Fort McHenry after the 25-hour British bombardment, was inspired to pen the "Star-Spangled Banner."
Pride of Baltimore II, like her predecessor, Pride of Baltimore, is a reproduction of one of the most famous of these privateers, Chasseur. For more than four decades, these modern-day prides of Baltimore have promoted historical maritime education, fostered economic development and tourism, and represented the people of Maryland in ports throughout the world. Since her commissioning in 1988, Pride II has sailed 250,000 nautical miles and visited more than 200 ports in 40 countries.
To learn more about Pride of Baltimore II, please visit www.pride2.org.
###