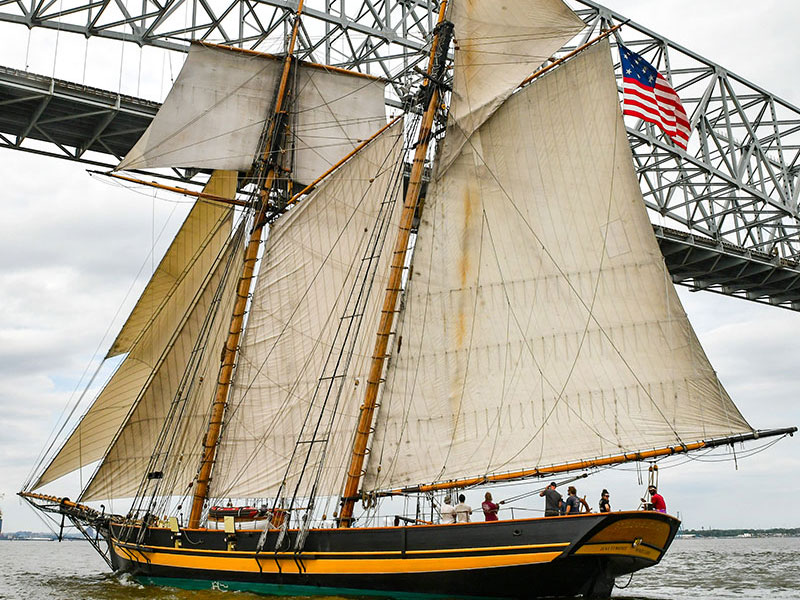 Sailing under the Key Bridge, May 14, 2020, courtesy of Mark Hergan
FOR IMMEDIATE RELEASE
May 20, 2020
Contact: Erica Denner, 410.539.1151
erica@pride2.org
BALTIMORE, MD – Due to the uncertainty that we are all facing in the midst of these challenging times, Pride of Baltimore, Inc.'s board of directors has decided to close Pride of Baltimore II to the general public for the remainder of the 2020 season. Even though the ship won't be sailing, Pride staff will continue working to prepare for a strong 2021 sailing season. The decision to tie up Pride II for the season was based on a number of very important factors, including the safety and well-being of our crew, the public, and our office staff, as well as an attempt to shore up our finances for our long-term sustainability. This unfortunate, but necessary, move will allow us the greatest flexibility to once again serve as a sailing ambassador for Baltimore and Maryland once the worst of this crisis is behind all of us.
We fully recognize that the need for social distancing will continue to play out in the weeks and months ahead. Without the ability to safely welcome guests and visitors on board, we are unable to generate any earned revenue — a critical part of the diverse mix of revenue streams needed to make our operations sustainable.
Making the decision was heartbreaking, since we were coming in to the 2020 season "on the crest of a wave." The 2019 season was a huge success for us. We welcomed more than 58,000 visitors on board as we traveled the Great Lakes during the TALL SHIPS CHALLENGE® Great Lakes 2019. In a partnership with Visit Baltimore, our crew distributed Baltimore Visitor Guides in ports of call. Thanks to a state grant from the Maryland Heritage Areas Authority, we were able to partner with Pixilated, which allowed us to capture visitor contact information in a fun and creative way. We were also bolstered by the completion of our Strategic Business and Action Plan that was delivered to the state legislature in late November — a clear guide to success to build a sustainable nonprofit dedicated to the support of Pride of Baltimore II.
"Although the decision to tie up for the remainder of the 2020 sailing season was a difficult one to make, we feel that the safety of the crew, as well as of the general public, is paramount," said Jeffrey Buchheit, executive director. "The future is bright and we will get through this. We just have to be strong and stay the course. There will be a time to sail again with the public on board. That time just isn't now."
Pride II has not been sailing much over the past few months, but our captain, staff, and crew created an engaging virtual voyage and a weekly live social event, "Coffee with the Captain," both presented on our Facebook page. These efforts will continue even as Pride II remains at the dock for the remainder of this season. One of the most popular virtual voyage posts reached over 20,000 unique individuals, had 100 shares and 750+ post likes, and engaged 2,080 people.
"The board is proud that Pride can still serve as a goodwill ambassador even in quarantine! We very much look forward to being a part of a great Maryland tourism comeback story and continuing to serve as a tourism ambassador for Baltimore and Maryland in the years ahead," said Jayson Williams, chair of the board of directors. "We can't thank enough our state and local partners, donors, volunteers, crew, and staff for all of their hard work and support to keep us 'virtually' sailing."
In the meantime, even though Pride II will remain at the dock for the season, we want to stay connected! Our friends can
We would also like to ask friends, who can afford to do so, to donate so that we can continue to prepare, without interruption, for a strong season next year!
About Pride of Baltimore II
Baltimore Clippers, sleek, fast, and maneuverable vessels, gained fame as privateers during the War of 1812. Their success in capturing British merchant ships provoked the Royal Navy to attack Baltimore in 1814. Francis Scott Key, seeing the American flag still flying over Fort McHenry after the 25-hour British bombardment, was inspired to pen the "Star-Spangled Banner."
Pride of Baltimore II, like her predecessor, Pride of Baltimore, is a historically-evocative reproduction of one of the most famous of these privateers, Chasseur. For more than four decades, these modern-day prides of Baltimore have promoted historical maritime education, fostered economic development and tourism, and represented the people of Maryland in ports throughout the world. Since her commissioning in 1988, Pride II has sailed over 275,000 nautical miles and visited more than 200 ports in 40 countries.
To learn more about Pride of Baltimore II, please visit pride2.org.
###