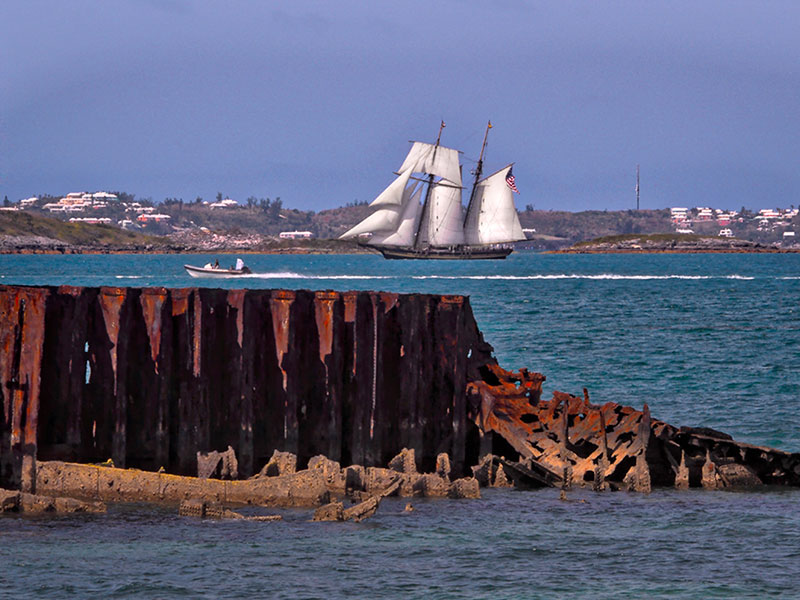 Pride of Baltimore II in Hamilton Harbor, Bermuda, June 1, 2017, courtesy of Theresa Airy
FOR IMMEDIATE RELEASE
February 4, 2020
Contact: Erica Denner, 410.539.1151
erica@pride2.org
BALTIMORE, MD – Pride of Baltimore II (Pride II or Pride) will be racing in the 22nd running of the Annapolis to Bermuda Ocean Race (A2B) in June for the first time in the race's history! Her entry in the A2B has been made possible through a partnership between the Eastport Yacht Club, the race host in Annapolis, and Pride of Baltimore, Inc.
"We are excited to be working with the Eastport Yacht Club and the Bermuda Ocean Race team in Annapolis to have Pride II race! The visuals, a traditional wood tall ship in a fleet of modern racing vessels, will be extraordinary," said Jeff Buchheit, executive director, Pride of Baltimore, Inc.
Started in 1979, the A2B covers 753 miles, making it one of the longest ocean races on the east coast of the U.S. The challenging course combines inshore and offshore racing tactics down the Chesapeake Bay, across the Gulfstream, and on to Bermuda. The race is Maryland's only international sailing race and allows sailors to fulfill a lifelong ambition of a blue water passage to an island well-known for its soft coral beaches and hospitality. The 2020 race is sponsored by Mustang Survival, a respected marine technical and apparel company that has been at the forefront of marine safety for more than 50 years.
"Pride represents the true sailing heritage of Maryland and will be a welcome addition to the fleet," said Michael Lehmkuhl, chair of the Bermuda Ocean Race Association, which organizes the event. "Racing to Bermuda on Pride will recreate some history, set some records, and awaken an old rivalry or two!"
A number of class divisions ensure a competitive experience for both seasoned racers and more casual cruisers. Pride of Baltimore II will be in the newly-created Privateer class.
"In 2017, Pride II raced from Charleston, South Carolina, to Bermuda in conjunction with the Rendez-Vous 2017 tall ships event. The winds were strong and favorable. It was a very fast trip with Pride averaging nearly 10 knots, making Bermuda in just three days and a few hours. Hopefully, she will have a similar trip to Bermuda in the A2B this year!" said Captain Jan Miles, Pride of Baltimore II.
Those not fortunate enough to be on Pride II or another vessel for the A2B will be able to track Pride and the rest of the fleet in real time.
The race is hosted by the Eastport Yacht Club in Annapolis and the Royal Hamilton Amateur Dinghy Club in Bermuda. For more information about the 2020 Mustang Survival Annapolis to Bermuda Race, please go to bermudaoceanrace.com.
About Pride of Baltimore II 
Baltimore Clippers, sleek, fast, and maneuverable vessels, gained fame as privateers during the War of 1812. Their success in capturing British merchant ships provoked the Royal Navy to attack Baltimore in 1814. Francis Scott Key, seeing the American flag still flying over Fort McHenry after the 25-hour British bombardment, was inspired to pen the "Star-Spangled Banner."
Pride of Baltimore II, like her predecessor, Pride of Baltimore, is a historically evocative reproduction of one of the most famous of these privateers, Chasseur. For more than four decades, these modern-day prides of Baltimore have promoted historical maritime education, fostered economic development and tourism, and represented the people of Maryland in ports throughout the world. Since her commissioning in 1988, Pride II has sailed over 275,000 nautical miles and visited more than 200 ports in 40 countries.
To learn more about Pride of Baltimore II, please visit pride2.org.
About the Eastport Yacht Club
The Eastport Yacht Club (EYC) has established a sound reputation on the Chesapeake Bay as a "do something" club. Its heritage and pedigree come from the everyday people and workers of Annapolis and Eastport. Members share camaraderie and great times, on and off the water, with racing, cruising, social events, and community involvement.
Current members will tell you how satisfying it is to be a part of a diverse group of friends. EYC members are a family — bonded by common interest and a love of the water. The clubhouse offers members a million-dollar view: the historic Annapolis skyline, Severn River, U.S. Naval Academy, Bay Bridge, Eastern Shore, and, of course, the Chesapeake Bay. The EYC calendar is full of social activities and worthwhile, high visibility events — most associated with fun on the water, yet not one requiring the ownership of a boat or yacht.
Go to eastportyc.org to learn more about the Eastport Yacht Club.
###