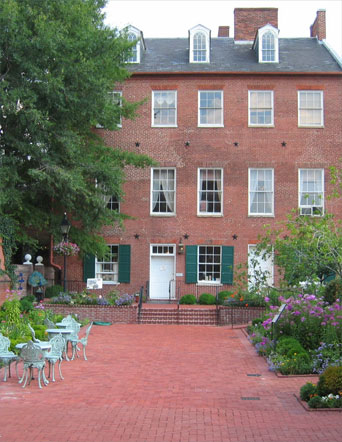 We are pleased to be partnering with one of our fellow institutions, Carroll Museums, on their upcoming All American House 2016 at Carroll Mansion. This national exhibition of American design and manufacturing, secured from the DC-based nonprofit MADE: In America, will run through July 10, 2016. To extend the exhibition's reach citywide, Carroll Museums invited Pride of Baltimore and other institutions to be Baltimore's American Treasures Affiliates and cross-promote with our own programs, events, and
exhibitions. More than a dozen affiliates are helping to showcase Baltimore's role, past, present, and future, in shaping America's design aesthetic and innovation in manufacturing.
Pride of Baltimore II is certainly one of Baltimore's American treasures, a maritime treasure. She is a reconstruction of an early 19th-century Baltimore Clipper, a ship design developed in, for, and unique to the Chesapeake Bay area.
A combination of geography, settlement patterns, and even weather spawned the design of the Baltimore Clipper. The Chesapeake Bay, the largest estuary in the United States, stretches 200 miles, but is surprisingly shallow. Its average depth is about 21 feet, although there are deep troughs — believed to be remnants of the ancient path of the Susquehanna River — running much of the Bay's length. The Chesapeake Bay also has about 24 navigable tributaries, meaning that navigating between towns, when water transportation was the easiest form of transport, entailed navigating long, narrow, and shallow rivers. As for weather, winds on the Bay are often very light in the summer. Over time, Chesapeake Bay shipbuilders combined different facets of design to build ships best suited to the local sailing conditions. Baltimore Clippers were one of those designs.
Baltimore Clippers were topsail schooners, sharp built (meaning they had a V-shaped hull) with strongly raked stem and stern posts and masts. These design factors, along with others, created sleek, fast, and maneuverable vessels. They could sail closer to the wind than all of their contemporaries and faster than most of them. It's no surprise then that Baltimore Clippers gained fame as privateers during the War of 1812 – they could outmaneuver and sail faster than the British ships. Their success in capturing British merchant ships provoked the Royal Navy to attack Baltimore in 1814.
So, come aboard for a deck tour during the month of May and our knowledgeable captains and crew can tell you more about the history behind the design of Pride II and the Baltimore Clippers of yore that inspired her construction.