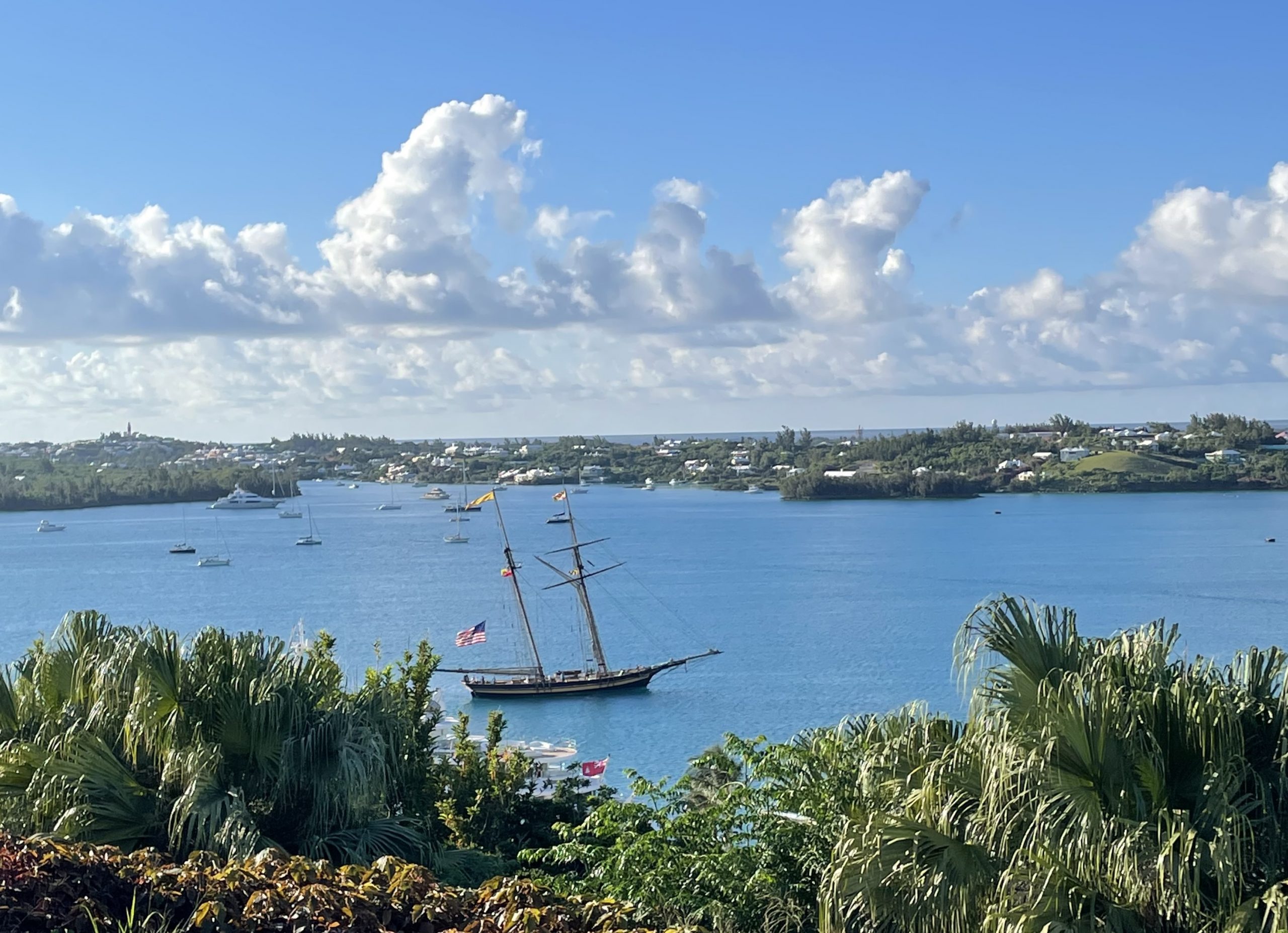 Photo: Pride of Baltimore II  in St. George's Harbor, courtesy of Kate Simmons.
Date: Friday, June 11, 2021
Location: Alongside Pennos Warf, St. George's, Bermuda
Pride of Baltimore II departed Baltimore on June 4 bound for Bermuda & arrived safely on June 10. This Captain's Log is a collection of updates sent from the ship during the voyage.
Log 1
Date: Saturday, June 5, 2021
Time: 2230
Position: 32°36.8 N x 75°05.4 W
35 nautical miles east of Currituck Beach Light, Virginia.
Since 7 PM Friday Pride had been motoring with all sail struck and stowed. All hands split into three watches. Each watch took 4-hour turns managing Pride down the remaining length of the Chesapeake Bay from near the leaning-over lighthouse of Sharps Island at the mouth of the Choptank River. Pride had company. The fleet of sail racing yachts headed from Annapolis to Newport was making its way down the bay at the same time. The wind was at times light and fickle. At times light and contrary. At times favorable and fresh. But after a full Friday afternoon of the crew aboard Pride tacking nearly a dozen times and a forecast of changeable wind largely from ahead breezes sail was struck and everyone could take the night to recover from the acutely physical effort of those tacks. The pulling on sheets and braces of three headsails, two square yards and the loose footed foresail every twenty minutes to a half hour throughout the afternoon was unrealistic to continue on through the coming night. Particularly as Pride was not actually in a race. Those much more modern than Pride racing vessels made very few tacks and most had only one headsail to pass from side to side. Two additional realities helped me give the crew relief for the night from all the sail handling. A forecast of dead calm at the bottom of the bay most of Saturday and a 600 plus nautical miles ocean passage to make after getting out of the Chesapeake Bay. Now Pride is on her way under sail making 8+ knots with 10-11 knots of beam reach wind under full sail (main, main gaff topsail, fore topsail & topgallant, and three headsails. She has company. Somewhere nearby is Ice Bear, a modern sloop (Swan 59) providing adult adventure cruising under the organizing of 59°-North. Both vessels were set to participate in last year's Annapolis to Bermuda Race. A multi-decade venerable race canceled at the last moment due to COVID. This year, an off-year of the every two year A2B race, Pride and Ice Bear are sailing in company towards Bermuda, as a memorial to last year's missed competition. Some friendly competition is on. Also some celestial navigation competition. Now it begins.
Log 2
Date: Sunday, June 6, 2021
Position: 35°47 N x 73°24 W
Started motoring-sailing around 8 AM this morning. At the end of good sailing since 7 PM yesterday. Finally had to strike square-sails and outer two jibs at midday. Being there is not a ripple of wind on the water. Motoring along puts the square-sails aback and slows the motoring. Maybe a new wind overnight. Maybe not till sometime tomorrow
Log 3
Date: Tuesday, June 8, 2021
Time: 0800 EDT
Position: 33°47.6 N x 69°12.8 W
Conditions: SW 10 knots, scattered rain clouds, 3-foot swell from SE
At 1600 hours yesterday Pride's crew had experienced the first time sailing uninterruptedly for 24 hours. Happily sailing continued overnight last night and on this morning. Weather forecasting indicates we could sail through most of today before we experience the forecast of truly light winds.
The wind for this leg from near the Virginia beaches south of Cape Henry has been somewhat fickle. Saturday night was a good, relatively smooth and speedy sail of around 8 knots. All sail including the square top-gallant. Sunday around 0900 the wind fell to near nothing when Pride reached the main part of the Gulf Stream. Smooth seas and no wind at all. Had to strike square-sails and headsails as they were blocking the breeze made by motoring. Late afternoon Sunday, having crossed the stream, we went sailing again with the return of the southerly-southwest breeze of around 5-10 knots. We have been able to sail continuously since at boat speeds of 4-6 knots. If we can continue all day today, we will eventually accumulate 48 hours of continuous sailing.
Life on board is at a constant 5-10 degrees of heel. Pride heaves and jerks with the impact of 3 foot swells from the southeast. No one aboard is able to stand and walk without jerking around compensating with quickly shifting feet. For those of us less nimble, we have arms out to grab or brace as we move around. Since the rise of water temperature to near 80 degrees Fahrenheit with the Gulf Stream and on toward Bermuda, plus a significant rise in humidity, life down below is a swelter. Notwithstanding, ship's cook, Ian Bova, has been keeping all aboard well fed. And there be plenty of snacks to reach for if one goes to the designated snack locker. But there is no such thing as a cool drink. No ice to be had. So the coolest a drink can be is around 80 degrees. But anyone can have as much hot drink as one wants.
Log 4
Date: Wednesday, June 9, 2021
Time: 0800 EDT
Position: 32°59.6 N x 66° 37.3 W
Conditions: Wind Light & Variable. Glassy smooth sea. Slight swell.
Started motoring around 2200 hours EDT yesterday. Forecasts of the last several days have indicated sometime late Tuesday winds would go light & variable near Bermuda. And so the wind did go light & variable last night. But at least we managed to accumulate 54 hours of continuous sailing. This morning we are 120 nautical miles from entering St George's Harbor, Bermuda. At a moderate engine speed of 1,200 RPM we are making around 5.5 knots. So, an early morning arrival tomorrow seems a realistic plan.
Arrival Bermuda will be more than motoring in and dropping the anchor. Some distance away from Bermuda we are required to communicate via VHF marine radio with Bermuda Radio. That call will determine Pride's crew COVID-free status. Assuming we satisfy the authorities we will be given permission to continue proceeding to St George's Harbor. Once there Bermuda Customs Clearance procedures will be performed. This will include a COVID test of all aboard followed by remaining aboard until those tests prove everyone is free of the virus.
During this isolation period we will clean Pride and organize for the big changeover that will occur Friday. Guest crew voyagers will debark and new guest crew voyagers for the return sail will embark. Between these movements, the bunks for guest crew will be changed over. Once the change over is complete, customs clearance formalities from Bermuda will be made ahead of the planned Saturday departure. Weather permitting.
Log 5
Date: Thursday, June 10, 2021
Time: 0700 EDT/0800 local time
Pride II has arrived in St. George's Harbor & alongside the dock awaiting customs and covid testing.