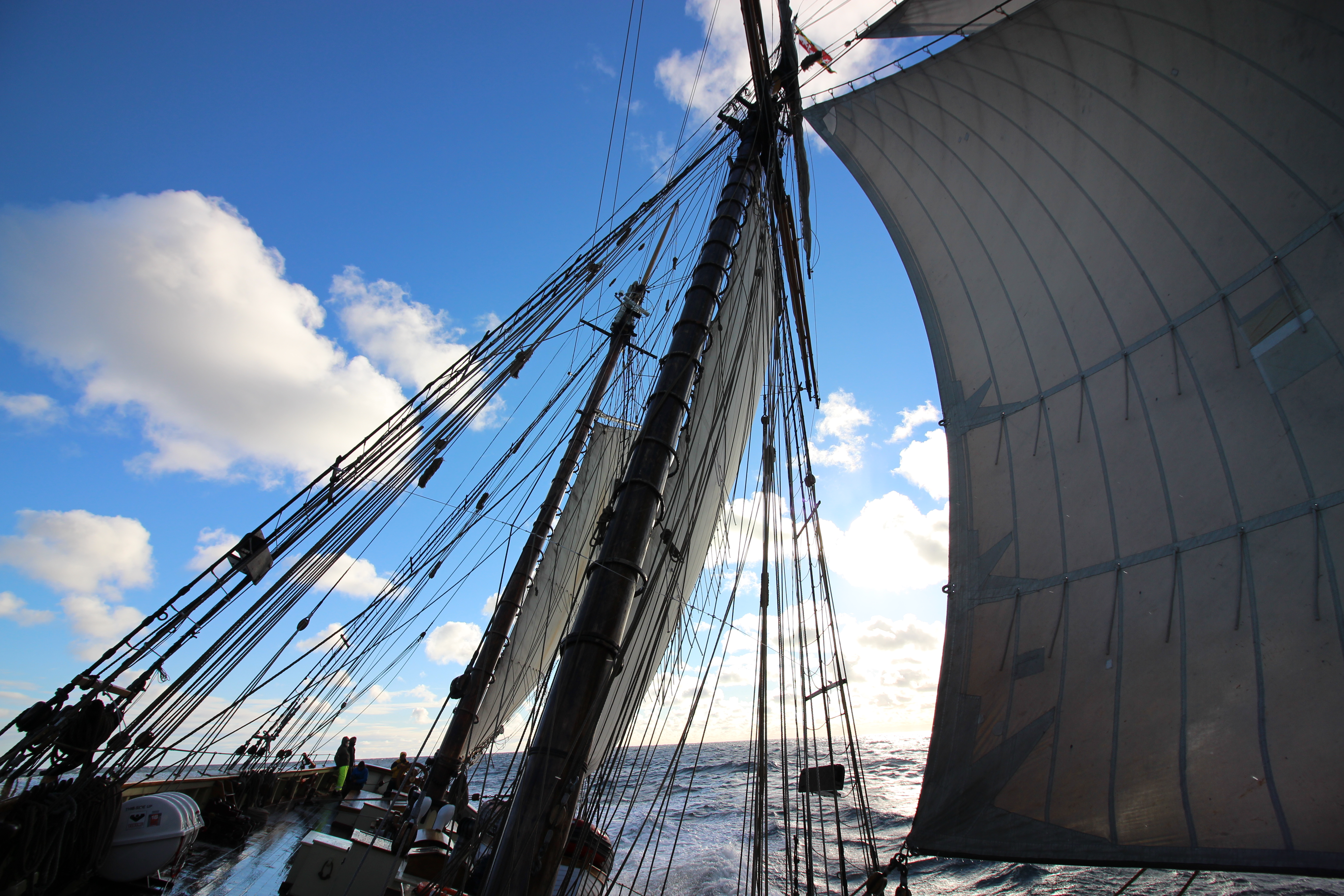 Date: Friday, September 30, 2016
Position: New Bedford, Massachusetts
The fishing port of New Bedford, Massachusetts is sheltering Pride of Baltimore II from the current nor'easter – the same one that had her rolling around and along in the Gulf of Maine. There is time available ahead of the October 6th arrival date to let this nor'easter dissipate before making the last open ocean leg between Southern New England and the entrance to the Delaware Bay. To suggest that the ship's company is comfortable with this decision would be an understatement.
The Tortoise and the Hare: a fable telling of a competition between a  slow tortoise and a quick hare and the many meanings to be taken from the slow tortoise winning. Not to overly borrow from any potentially deep meaning of this tale, moving Pride of Baltimore II from the constrained navigation of the Thousand Island area of the Upper St. Lawrence River to the estuarial area of her homeport of Baltimore is not simply a matter of setting sail or setting the speed of her auxiliary engines and steering through adequate depth waters. What starts out as moving northeastward, a direction away from her destination, slowly turns rightward toward the westward and throughout this slow turn covers a series of open and coastal water spaces that can present rough sea conditions if the wind is from certain directions and is of enough strength. The prudent mariner of small auxiliary sail vessels has long found there are times to be the tortoise and times to be the hare if one is to have the most rewarding transit possible when it comes to making what is more often described as a "coastal" transit when dealing with negotiating a voyage with land nearby.
Pride's transit thus far from The Thousand Islands area has been mostly doggedly underway. The dogged-days were a mixture of motoring and sailing dead-down-wind in narrow rivers followed by sailing more broadly in more open water areas. Some of the sailing has been pretty robust. It was thus when Pride sailed pretty hard along the coast of Nova Scotia under a single-reefed mainsail, no square-topsail, but with foresail, fore-staysail & jib, all sheeted in pretty close and creating mostly steady heel angles of 10-15 degrees from a fresh 20 knot northwest wind. That was a brute force "schooner" sail toward the west and also the first real leg in this voyage aimed more or less directly for home. There were times the wind had a fetch of 20 miles from land that created a sea swell size of between 4 and 5 feet. Such a sea size and Pride's powerful sail plan providing 7 & 9 knots of speed set up for some shuddering crashes. But a fairly quick job was made of getting between Cape Canso and Cape Sable, which was a good thing as there was nothing to be gained by continuing on across the Gulf of Maine with a stiff nor'wester. So a very relieving 24 hours was spent anchored in Round Bay near Roseway, Nova Scotia. Rest and cleaning was accomplished while waiting for an opening to cross the Gulf of Maine.
That opening was very narrow and complicated to figure out. In the end it started out as a motor ride in smooth sea right around Cape Sable Island Light, across the banks of Cape Sable and northwestward toward the center of the Gulf while the short term calm after the nor'wester built up to a fresh southwest wind, then shifted to a stronger southerly for a short while. As forecasted, this fairly quickly died out altogether and Pride could be directly steered for Cape Cod Bay while waiting the beginnings of this forecasted nor'easter. When it built up, Pride rolled her way downwind to Cape Cod Bay and eventually through the Cape Cod Canal into the relatively protected waters of Buzzard's Bay, thence to New Bedford.
While the crew do some resting, maintenance, and another deep cleaning of down below we await this nor'easter to blow out before making the next move. There are 250 odd open Western Atlantic Ocean miles to cross to Delaware Bay. This current nor'easter is kicking up even bigger seas south of Cape Cod than was experienced in the Gulf of Maine. So we wait for that to moderate. There is time to wait being that we have had usable weather for keeping almost constantly moving since departing the Thousand Islands area.
I have decided not to pass through New York Harbor. Rather instead go directly from Buzzard's Bay to Delaware Bay. This decision has to do with the forecast. The current nor'easter is set to blow out at the end of this weekend. So we can depart then and likely find a less than 3 foot sea "out there." Motoring along at steady speed of 6-7 knots ought to bring Pride to the Delaware Bay by late Tuesday. This seems like it could be important. A new nor'easter is set to develop from the Virginia Capes to Cape Cod starting Tuesday evening. Going through New York certainly gets the ship toward the west. Then it is only a matter of getting southward to The Delaware. But a nor'easter sea state makes getting out of New York difficult. There is a significant risk of burying the head-rig in a big sea when using the ebb current to get out against an onshore breeze, but also if there is significant ocean swell included left over from a previous blow. So, I think it is to our benefit to become the hare and await for things to calm down. Then "race" directly toward the Delaware. Pride is refueled. Ship's Cook Phil has restocked. Ship rig & systems checking is again done. Once the cleaning is done it will be a matter of waiting till it is time to go. During this waiting time a lot of rain is forecast, so regular maintenance won't be really practical.
But no fear, the crew will not likely become bored. Locals have activities going on that they have extended an invite to ship's company. A tour and picnic lunch at R&W, a rigging supply company of some three decades has offered tours and lunch. This rigging company has long been a very proactive supplier of traditional sail solutions, in addition to all the other more contemporary solutions to fishing and commercial marine as well non-marine rigging. So it is with great interest to the crew to have the tour. The State Pier we are tied to is having an "Oktoberfest" Saturday. Won't that be fun for the crew? Across the street from New Bedford State Pier is the world wide renowned New Bedford Whaling Museum. Tickets have been gifted to the crew by R&W. Of course, being so close to town center as State Pier is, there are some other desired distractions.
Yeah. Tortoise and Hare. Well applied can mean a rich experience and still be on schedule, or so I am hoping. Past coastal transits with this strategic approach have been satisfying, actually very rewarding experiences. There have been a few shorter transits where the window of time and the weather period have been so synchronized as there was no way to avoid a very uncomfortable transit. There have also been a few times (fortunately very few) when the deadline was cancelled as there was just no prudent way to get the ship and crew safely to the next port by the scheduled date. I have high hopes that deciding to wait out this nor'easter in New Bedford will not be a risk.
Signed,
Captain Jan C. Miles