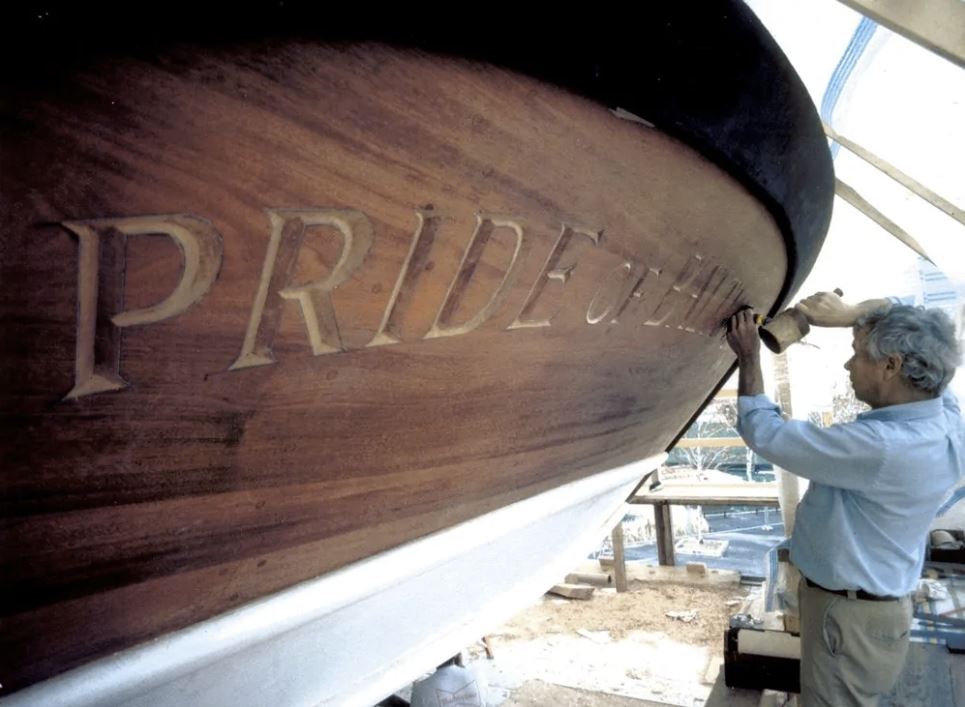 Photo: Fred Hecklinger carving the nameboard of Pride of Baltimore II.
Friday, October 2, 2020
Fred Hecklinger, 84, passed this week. He was a critical third of the three leaders that formed the International Historic Watercraft Society to design and build the 1812 War Baltimore Clipper Privateer reproduction Pride of Baltimore for the City of Baltimore back in 1976. Melbourne Smith was the society founder and master builder; Tom Gilmer was the naval architect and historian; Fred was the foreman of construction.
One of the younger members of the building team, Peter Boudreau, 20 years old at the time, shared with me this week that Fred filled the role of foreman of the construction, but was often referred to as "Chief Psychologist".
I think it fair to say Fred continued this psychologist role for Pride of Baltimore all through her sailing life, and even for the second vessel.
On a number of occasions, Fred would be a relief captain for some of the winter-time voyage legs around Florida and northeast Caribbean during the early years of the first Pride. Covering times when the full-time replacement was not available to pick up directly from the departing full-time captain. Relief work as captain can be tricky for all hands. By all accounts, crew morale was kept high and high-functioning through the "way of Fred" as captain.
Fred joined the second vessel's construction team, led by Pete Boudreau, having become a master builder himself with Lady Maryland recently completed, to carve Pride of Baltimore II's name into her stern, as he had for the first. Again, always sharing sagely, and sometimes with his wry humor, his extensive encyclopedia of "age of sail" knowledge and experience mixed with his classic yachting and modern ocean racing background.
Residing in Annapolis, Fred would pay a visit aboard Pride of Baltimore II every time she made a port call there. His acute observation skills, developed through his professional sailing life since age 15, generated wonderfully engaging conversations merging his observations and queries about the nature of the second vessel with our own discoveries and solutions. Peppered throughout with compliments for our diligence of care for her while inserting his own solutions derived from his vast experience. Every one of the crew participating always experienced personal pride from Fred's recognition of their efforts to preserve and contribute to the high standard the ship is admired for.
When not sailing professionally, Fred was a marine surveyor, particularly in demand by those responsible for wood-built vessels.
Fred is known far and wide around the Chesapeake Bay outside of the Pride of Baltimore legacy that was started by the City back during the mid-1970s. In addition to being foreman for the building of the first Pride, Fred filled a key role in the founding of the Eastport Yacht Club. In 1965, Fred helped establish Chesapeake Appreciation Days. He also was involved with a number of museums: the Maryland Center for History and Culture (formerly the Maryland Historical Society), Annapolis Maritime Museum, and the Chesapeake Bay Maritime Museum. Fred is also a published author of marine subject magazine articles.
I will miss Fred's wry humor.
Signed,
Jan C. Miles
Senior Captain